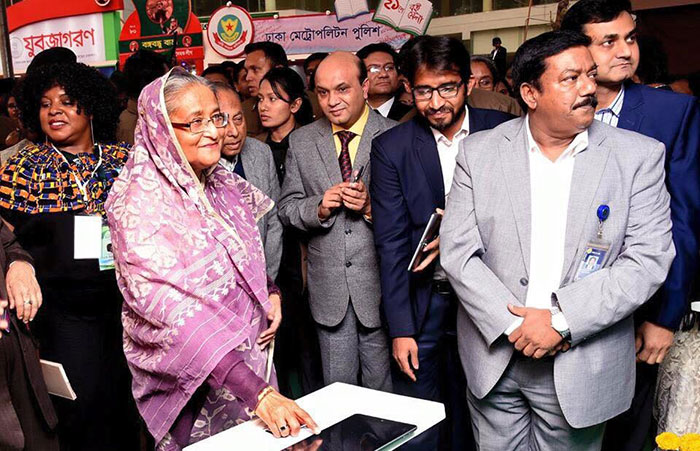 On 1st February, at this year's Amar Ekushey Book Fair, the Honorable Prime Minister Sheikh Hasina inaugurated a2i's newly developed online-based platform for visually impaired persons 'Accessible Dictionary' (http://accessibility dictionary.gov.bd).  'Accessible Dictionary' is Bangladesh's first Bangla-to-Bangla, Bangla-to-English, English-to-Bangla, English-to-English dictionary developed exclusively for the visually impaired and blind persons.
It is available in both web and mobile app formats. Mentionable here that previously a2i had developed Multimedia Talking Books for students from class 1 to 10 which are handed over to visually impaired students every year on Jan 1 at the National Textbook Festival Day. a2i Programme of the Prime Minister's Office believes that such innovations can be useful in improving language proficiency of students and help achieve the government's vision of making education accessible for all.
'Accessible Dictionary' has been developed by a social development organization YPSA with overall support from a2i's Service Innovation Fund.
Among others, a2i's Policy Advisor Mr. Anir Chowdhury; World Literature Center's Additional Director, Mesbah Uddin Ahmed; a2i's Policy Specialist (Educational Innovation) Md. Afzal Hossain Sarwar; a2i's HDM production Manager Purabi Matin; a2i's Technology Expert Md. Rafiqul Islam; senior officials from Bangla Academy and media representatives were present in this inauguration ceremony