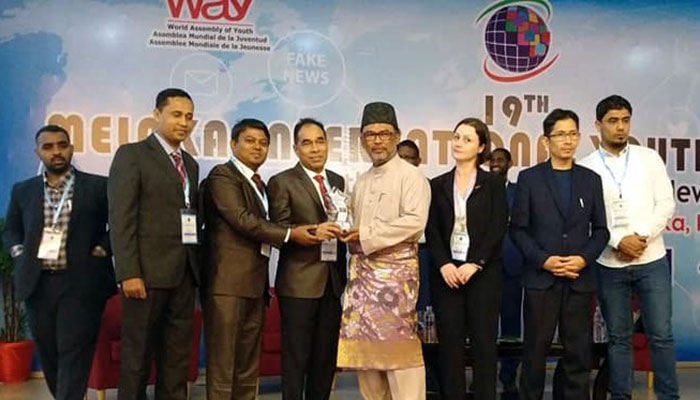 120 young people from 33 countries around the world have participated in the 19th Melaka International Youth Dialogue in Malaysia. From Bangladesh, YPSA is only non-government organization who attended this summit. This programme was organized by World Assembly for Youth (WAY). The theme of this dialogue was "Youth Deconstructing Fake News".
The "Fake News" has been seen as one of the greatest threats to democracy, free debate and order. Absence of filter in the open sourced network of internet has been taken as an advantage by certain irresponsible parties. To prevent this menace, web filtering is a very powerful tactic. In this regard the government has adopted Acts, Rules and Regulations. Opponent claims that freedom of speech and expression has been violated by imposing restrictions on the use of the internet. The government is also being criticized by the civil society, electronic media and press media for this issue. On the other hand, proponent claims that this restriction is needed otherwise harmful news may lead enemy propaganda not only among the country people but also with the neighboring countries. In that phenomenon, youth has been playing an important role. For recognizing the vital role of young people in addressing fake news, misinformation, disinformation, and mal-information this dialogue bears big significance. This dialogue encourages youth leaders to conquer truthful and reliable means of communication, distribute authentic and trustworthy information.
The dialogue has emphasized the actions that young people and stakeholders should take towards addressing media literacy and developing the essential skills to critically evaluate information in off-line and online media. The dialogue has identified the roles and concerns of all stakeholders towards deconstructing fake news, and declared that now is the right tie and opportunity to act in partnership on order to enhance youth contribution towards media literacy and the attainment of sustainable development goals (SDGs).
The event was five days (23 June to 27 June-2019) long and held at historical city Melaka in Malaysia. The event was inaugurated by the President of World Assembly of Youth, Hon. Datuk Seri Utama Ir. Idris Haron and moderated by Ms. Ediola Pashollarai, Secretary General of World Assembly of Youth.
President of Malaysian Youth Council, Ambassadors of Palestine, Libya, Nigeria, Srilanka and UN representatives were presents as a special guest of this dialogue. At the dialogue, several plenary sessions, workshop, group work, presentations, cultural nights and excursions was held.  At the final day of this dialogue, a declaration on deconstructing fake news was approved by the delegates and participates of MIYD.  YPSA has played an active role on policy adoption to deconstruct the fake news and media. On behalf of YPSA, Md. Mahabbur Rahman, Director (Social Development), Md. Abdus Sabur, Youth Focal and Syed AssrafUllah, Monitoring and Learning Officer were participated in the MIYD-2019.