Community Radio is characterized by the active participation of the community in the process of creating news, information, entertainment and culturally relevant material, with an emphasis on local issues and concerns. It is a non-profit making enterprise and having skills with training, local producers can create program using local language. The community can also actively participate in the management of the station and have a say in the scheduling and content of the program.
YPSA initiated Community Radio established in Sitakund, a sub-district of Chattogram, commercial capital city of Bangladesh which is the first Government approved community radio in the Chattogram. The name of this Community Radio is RADIO SAGOR GIRI FM99.2, which carries the natural characteristics of Sitakund area that is surrounded by Ocean (Sagor) and Mountains (Giri).
The main objective of community radio is to provide livelihood related information to the rural communities in an understandable way. Agriculture, education, health, disaster, environment, climate change, women and child issues, market price, services, etc. are covered by the community radio for the community people.
Background:
In the National Strategy for Accelerated Poverty Reduction‐2 FY 2009‐11(PRS), Govt. of Bangladesh emphasized on "Access to information and Awareness building at the grass root level through Community Radio". To implement this strategy, NGOs including civil society, on behalf of community, had started movement for a policy on community radio since 1998. With long process, in 2008 Govt. of Bangladesh formulate a policy on community radio for installation, broadcasting and its operation. As per policy Govt. invites application for community radio.
After following selection procedure, Ministry of Information of Government of People's Republic of Bangladesh has finally approved 14 Community Radio Initiators (where 13 are by the Bangladeshi local NGO and 1 by the Government Agriculture Department) for installation, broadcasting and operation of community radio in Bangladesh first time on 22nd April 2010. To ensure free flow of information and people's right to information government enacted Right to Information Act 2009. Community radio approval is a strong step to empower people in this regards. After having license YPSA, as an initiator, established Community Radio Station (Radio Sagor Giri FM99.2) at the Sitakund of Chittagong.
Radio Sagor Giri FM 99.2 for the people, by the people and of the people.
 The goal:
 To set up a community radio, a radio station that practice radio broadcasting as a community service and see communication as a universal right.
Specific Objectives:
To run a community radio station within the project location by the community participation.
To provide training and the opportunity to broadcast to groups traditionally marginalized by mainstream media.
To establish community radio as an important part of community development and of the community and voluntary sector.
To enhance the capacities of local people to work together to tackle a range of social problems, including poverty and exclusion through radio.
Building awareness on early warning system and climate resilience for the coastal population using the community radio tool.
To nurture the creative talents of the community and to provide a forum for a diversity of opinions and information.
Target People:
A community radio is a radio for all the members of the community. Everybody is invited to participate, give his opinion, share interests and tastes and listen to the radio. However, the principal groups in vulnerable situations and hard to reach areas like the indigenous and ethnic minorities, fisher folk community, women, farmers, person with disabilities, Children, Elderly and young people will be the main target for the community radio .
RADIO SAGOR GIRI FM 99.2 station
As a primary requirement of community radio there should be a permanent studio as per policy of community radio formulated by Ministry of Information of Bangladesh Govt. YPSA, as a initiator of community radio (RADIO SAGOR GIRI FM99.2), already constructed permanent studio in the 3rd floor of YPSA-HRDC campus located at Sitakund (opposite of Sitakund Upazila Government Hospital and Sitakund Fire Brigade Service ) comprises with 5 rooms.
Coverage areas of  Radio :
Around 50 km (Areas of Sitakund, Mirsarai and Sandwip of Chattogram District )
Listeners Number: Approximately 10 Lac
Listener Clubs at field level : 250 listener clubs and approximately listener members are 20,000
Initiator organization : YPSA (Young Power in Social Action)
Address  of Radio head office in the Chattogram city:
YPSA
House F10(p), Road 13, Block B, Chandgaon R/Area, Chattogram 4212
Website: www.ypsa.org/radiosagorgiri
Radio Station  permanent  address  :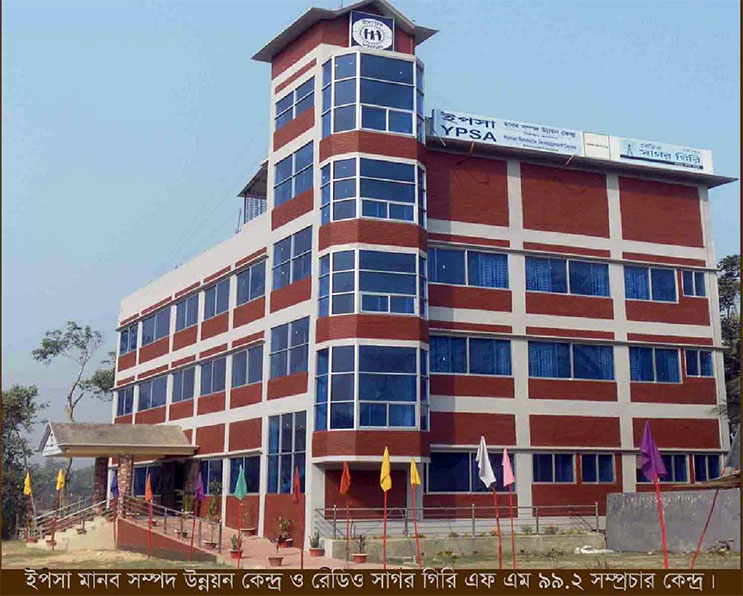 YPSA HRDC Sitakund campus
DT Road
(Opposite of Sitakund Fire Brigade Service)
Sitakund 4310
Chattogram
Email : sagorgiri@gmail.com
Chief Executive  contact details
Md. Arifur  Rahman
01711825068
Email: ypsa_arif@yahoo.com
Contact at Radio Station
Mr. Sanjoy  Chowdhury
Senior Program Producer
01825441666
Email:  sanjoychowdhury68@yahoo.com
Bank Account of Radio Sagor Giri
Radio Sagor Giri
AB Bank Ltd.
Sitakund Branch
Chattogram
A/C No. 4109-354933-430
Routing Number: 020157391
SWIFT Code: ABBL BDDH -001
Management : Radio Sagor Giri FM99.2 overall management are operating by the Management Committee and supervised by the Advisory Committee where UNO of  Sitakund Upazila is the Chairman .  Radio Sagor Giri FM99.2 is the active member of the BNNRC and BCRA and sharing radio contents and expertise to other community radio stations located in different part of the Bangladesh . As initiator organization YPSA is responsible to mobilize and manage the resources from the International organizations and monitor the program quality and deliverables to Government and partners.
Facebook Page