The Need for Urgent Housing, Land and Property (HLP) Rights Solutions
This 36-page report comprehensively examines the scope and causes of climate displacement across Bangladesh. Drawing on extensive fieldwork, the report highlights that climate displacement is not just a phenomenon to be addressed at some point in the future, it is a crisis that is unfolding across Bangladesh now. Sea-level rise and tropical cyclones in coastal areas, as well as flooding and riverbank erosion in mainland areas, are already resulting in the loss of homes, land and property and leading to mass displacement. Further, all of the natural hazards that are causing displacement are expected to increase in both frequency and intensity as a result of climate change – almost inevitably leading to the displacement of many millions more across Bangladesh. File type: PDF . File size: 2.46 MB 
ICT Facilitated Access to Information Innovations
A Compendium of Case Studies from South Asia.
With the aim of advancing access to information for enhanced transparency and accountability towards the improvement of democratic practices and public service delivery, OneWorld Foundation India (OWFI), in collaboration with the World Bank Institute (WBI), conducted research on ICT Facilitated A2I Innovations.
Five innovations from India and two from Bangladesh were identified for research and case-study documentation. One innovation is YPSA's DAISY FOR ALL program. Download full Report
File type: PDF . File size: 0.99 MB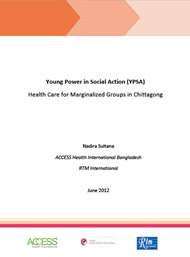 Health Care for Marginalized Groups in Chittagong
Nadira Sultana
ACCESS Health International Bangladesh
RTM International
This case study on Young Power in Social Action (YPSA) has been compiled after thorough primary and secondary research.
File type: PDF . File size: 416 KB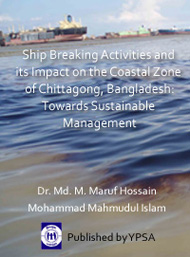 Ship Breaking Activities and its Impact on the Coastal Zone of Chittagong, Bangladesh:Towards Sustainable Management
Dr. Md. M. Maruf Hossain
Mohammad Mahmudul Islam
Institute of Marine Sciences, University of Chittagong.
This volume originated in the form of research report commissioned by Young Power Social
Action (YPSA).
File type: PDF . File size: 1.6 MB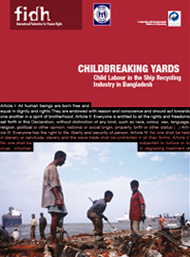 Childbreaking Yards
Child Labour in the Ship Recycling Industry in Bangladesh
FIDH began investigating the general working condition at shipbreaking yards in Bangladesh and India in
20021. In 2005, YPSA, Greenpeace and FIDH published a joint report focusing on dead and injured workers.
With Childbreaking Yards, FIDH and YPSA portray child labour at Chittagong's shipbreaking yards.
File type: PDF . File size: 2.5 MB 
End of Life Ships – the human cost of breaking ships
'End of Life Ships – the human cost of breaking ships –' is a joint report by Greenpeace and
FIDH, that aims to shed light on the extremely poor working and environmental conditions
that are still prevailing at shipbreaking yards all over the world. They illustrate this by using
the specific examples of the two biggest shipbreaking countries: India and Bangladesh.
YPSA actively collaborated in the research done in Chittagong and in Northern Bangladesh.
File type: PDF . File size: 4,03 MB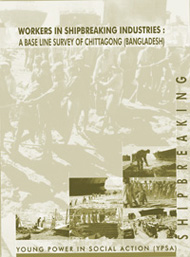 WORKERS IN SHIPBREAKING INDUSTRIES : A BASE LINE SURVEY OF CHITTAGONG
The study done by YPSA is an attempt to blaze a new field of exploration so far as working class is
concerned. Working class in the shipbreaking industries constitutes a fragile locus suffering
manifold hazards. Various categories of workers involved in shipbreaking operation remain
outside the purview of policy intervention. Their visibility in a continuous struggle for
survival with a bitter taste of life has not been translated into an issue of human development.
File type: PDF . File size: 1.19 MB