কৃষি, মৎস ও প্রাণিসম্পদ প্রযুক্তি ও সেবা সম্প্রসারণ উদ্ভাবন ও শিখন।
A publication on agriculture, fisheries and livestock technology and service published by YPSA with the support PKSF.
File type: PDF . File size: 24.9 MB

COMMUNITY LEGAL SUPPORT
EMPOWERING MARGINALIZED AND SUBALTERN
A Special Publication on YPSA-Community Legal Services for Access to Justice Project.
File type: PDF . File size: 3.41 MB

SOCIAL LEADERSHIP : LEARNINGS FROM GROUND ZERO
Leadership Development Program is a five-year long program starting from September 2012 aiming to increase citizens' capacity and participation in community development and democratic processes. The first objective of the program is as building the capacity of community leaders to become change agents for democratic processes and development, and the second is as building the capacity of youth leaders to become change agents for democratic processes and development.
File type: PDF . File size: 6.45 MB

THE RIGHTS OF CLIMATE DISPLACED PERSONS – A QUICK GUIDE

The aim of this guide is to provide practical, easy to follow advice on what people displaced from their homes and lands by climate change can do to get help. It is written directly for climate displaced persons and their advocates. It explains in non-technical language what climate displacement is, what rights you are entitled to as a climate displaced person, and what you can do to protect your rights.
File type: PDF . File size: 960 KB

GUIDANCE NOTE: NEW LAND FOR CLIMATE DISPLACED PERSONS IN BANGLADESH
This Guidance Note examines the current process of distributing state-owned land in
Bangladesh under the Khas system, as well as under the "Char Development and Settlement Project". It provides a step-by-step overview of how the distribution processes work in practice and identifies a number of shortcomings in each. Concrete recommendations for how these processes could be improved are also provided.
File type: PDF . File size: 2.42 MB
CLIMATE DISPLACEMENT IN BANGLADESH: STAKEHOLDERS, LAWS AND POLICIES – MAPPING THE EXISTING INSTITUTIONAL FRAMEWORK
Studies reveal that climate change could cause the forced displacement of up to 30 million people in Bangladesh by 2100 if sea levels rise – as they are expected to – by 80cm or more. Therefore, Bangladesh will have to face the challenge of mass migration, both external and internal, due to climate change as the country is not yet adequately prepared in provide permanent rights-based solutions for the relocation of such a large number of climate displaced people.
File type: PDF . File size: 3.82 MB
 BASELINE STUDY ON THE CHILDREN OF STREET BASED SEX WORKERS (CSBSW)
The Baseline report on the Children of the Street based sex workers will help to
understand a partial view of the socio-economic condition like-their living
condition, income sources, social stigma, education status etc of the CSBSW in
Chittagong and Comilla city. The report also addresses the role of the government
through different national legal instruments. The report also assess the need of
children of street base sex workers considering their expectation and interest.
File type: PDF . File size: 401 KB
Land Availability for Climate Displaced Communities of Bangladesh
The specific objective of the study is to identify viable land parcels in Bangladesh that could be used for resettlement of climate displaced persons. Categorization of each of the various land categories in Bangladesh, including both public and private land, analysis of land categories suitable for the resettlement of climate displaced persons in Bangladesh, estimate of the land resources required to resettle the entire climate displaced population in Bangladesh etc.
File type: PDF . File size: 1.23 MB
Study report on Land Acquisition for Climate Displaced Communities of Bangladesh
The major objective of this Study Report is to explore in detail the many legal, social, historical, political, economic and other factors involved in the land acquisition process in Bangladesh. This Study Report will also examine how land across Bangladesh can most easily, affordably and fairly be acquired and accessed by civil society groups and climate displaced communities in Bangladesh. The study will also assess the possibility of climate displaced persons accessing land through private or public donation, including by government officials, private individuals or corporations. 
File type: PDF . File size: 619 kb 
Study report on The Viability of CHT as a destination for Climate Displaced Communities of Bangladesh
The major objectives of this study are to examine the political and historical sensitivities of the Chittagong Hill Tracts (CHT) and indicate areas of focus for future activities in the CHT in this regard. This study also examines the potential environmental impacts of resettling large numbers of climate displaced persons in the CHT.The scope of the study is to provide analysis and recommendations on the political, social, conomic, environmental and other types of viability for the CHT as a possible permanent destination for climate displaced communities wishing to resettle there.
File type: PDF . File size: 588 kb
The Need for Urgent Housing, Land and Property (HLP) Rights Solutions
This 36-page report comprehensively examines the scope and causes of climate displacement across Bangladesh. Drawing on extensive fieldwork, the report highlights that climate displacement is not just a phenomenon to be addressed at some point in the future, it is a crisis that is unfolding across Bangladesh now. Sea-level rise and tropical cyclones in coastal areas, as well as flooding and riverbank erosion in mainland areas, are already resulting in the loss of homes, land and property and leading to mass displacement. Further, all of the natural hazards that are causing displacement are expected to increase in both frequency and intensity as a result of climate change – almost inevitably leading to the displacement of many millions more across Bangladesh. File type: PDF . File size: 2.46 MB 
ICT Facilitated Access to Information Innovations
A Compendium of Case Studies from South Asia.
With the aim of advancing access to information for enhanced transparency and accountability towards the improvement of democratic practices and public service delivery, OneWorld Foundation India (OWFI), in collaboration with the World Bank Institute (WBI), conducted research on ICT Facilitated A2I Innovations.
Five innovations from India and two from Bangladesh were identified for research and case-study documentation. One innovation is YPSA's DAISY FOR ALL program. Download full Report
File type: PDF . File size: 0.99 MB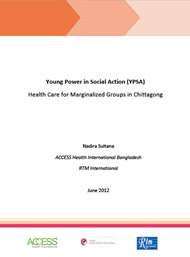 Health Care for Marginalized Groups in Chittagong
Nadira Sultana
ACCESS Health International Bangladesh
RTM International
This case study on Young Power in Social Action (YPSA) has been compiled after thorough primary and secondary research.
File type: PDF . File size: 416 KB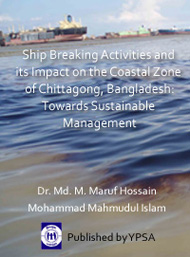 Ship Breaking Activities and its Impact on the Coastal Zone of Chittagong, Bangladesh:Towards Sustainable Management
Dr. Md. M. Maruf Hossain
Mohammad Mahmudul Islam
Institute of Marine Sciences, University of Chittagong.
This volume originated in the form of research report commissioned by Young Power Social
Action (YPSA).
File type: PDF . File size: 1.6 MB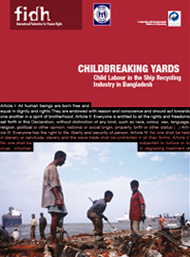 Childbreaking Yards
Child Labour in the Ship Recycling Industry in Bangladesh
FIDH began investigating the general working condition at shipbreaking yards in Bangladesh and India in
20021. In 2005, YPSA, Greenpeace and FIDH published a joint report focusing on dead and injured workers.
With Childbreaking Yards, FIDH and YPSA portray child labour at Chittagong's shipbreaking yards.
File type: PDF . File size: 2.5 MB 
End of Life Ships – the human cost of breaking ships
'End of Life Ships – the human cost of breaking ships –' is a joint report by Greenpeace and
FIDH, that aims to shed light on the extremely poor working and environmental conditions
that are still prevailing at shipbreaking yards all over the world. They illustrate this by using
the specific examples of the two biggest shipbreaking countries: India and Bangladesh.
YPSA actively collaborated in the research done in Chittagong and in Northern Bangladesh.
File type: PDF . File size: 4,03 MB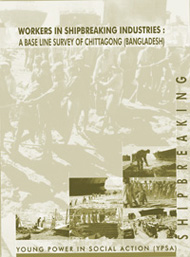 WORKERS IN SHIPBREAKING INDUSTRIES : A BASE LINE SURVEY OF CHITTAGONG
The study done by YPSA is an attempt to blaze a new field of exploration so far as working class is
concerned. Working class in the shipbreaking industries constitutes a fragile locus suffering
manifold hazards. Various categories of workers involved in shipbreaking operation remain
outside the purview of policy intervention. Their visibility in a continuous struggle for
survival with a bitter taste of life has not been translated into an issue of human development.
File type: PDF . File size: 1.19 MB