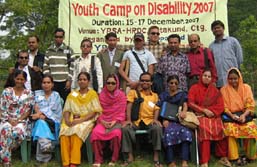 In every year, YPSA, with the support of Action Aid Bangladesh organizes Youth Camp to contribute youth people on social development and encourage them to make leadership spirit in their mind. In this process YPSA organized an event with the participation of youth persons with disability on 15-17 December 2007 at Sitakund. Total 10 organizations as well as 22 persons with disability (youth) from Chittagong and Dhaka participated in this camp.
Several issues were discussed such as development, communication and leadership, disaster and disability, accessible tourism, Information and communication technology, micro finance, role of youth and HIV/AIDS.
Field visit also organized on several issues at Shitakund.