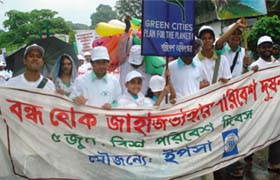 YPSA observed World Environment day. A rally of at least 1700 people was organized on the environment day where people from all sphere of life are joined demanding for a low carbon economy and stop pollution in the shipbreaking yards. The rally was started from the Chittagong Stadium corner to Muslim hall premises, where the ending session of the three day program was arranged. The District Commissioner of Chittagong, Mr. Hossain Zamil was the Chief Guest of the session. He said we should stop the habit of generating pollution in our every day life. We have to keep this world pollution free for our future generation.
This year the day was observed jointly including the GO and NGOs in Chittagong. A number of eleven NGOs, led by the department of Environment of Chittagong, participated in the three day program to observe the day. A series of programs were arranged like –seminar, debate competition, drawing competition, dialogue, public conference, rally, display centre etc.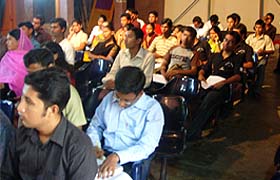 YPSA arranged a seminar on Shipbreaking in last Wednesday, 4th June'08. The chief guest of the meeting was Mr. Nazmul Haque, Director, Department of Environment and the meeting was addressed by the Mr. Nasrullah Bahadur, Assistant Professor (Dept. of Public Administration, CU), Mr. SM Abu Noman, Assistant Professor (Dept. of Law, CU) and Mr. Momtaz Uddin, Assistant Professor (Dept. of Public Administration, CU)
The key note paper of the meeting was read out by the Program Officer of YPSA Mr. Muhammed Ali Shahin. The speakers said the marine bio diversity now threatened for continuous environment pollution caused by the unregulated shipbreaking industry
The marine environment is in jeopardizing situation due to non-implementation of national and international environment regulations and obligations. The speakers strongly demanded to stop import of poisonous waste along with the scrap ships. Govt. officials, NGO representatives, Journalists, students, and representatives from different professional groups were present in the meeting.
Meanwhile Deputy Commissioner of Chittagong Mr. Ashraf Shamim inaugurated the programmes World Environment Day 2008 at Muslim Institutes premises through releasing balloons as the chief guest.