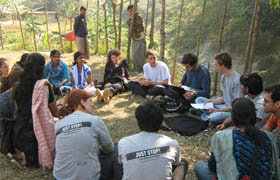 Believing the motto "Think globally and Act locally"- a very effective way to deal with different development issues in aspect of globalization, Global Xchange team 79 has conducted a Global Citizenship Day (GCD) by the ground "Violation Of Human Rights in Aspect of Indigenous & Tribal People" .
In the day, all the GX volunteers has gathered in Choto Kumira near to Chittagong, that is also known for an indigenous tribe called "Tripura". Meeting them, volunteers have passed time and exchanged views with local inhabitant tripura. They come to know that Tripura and other indigenous & Tribal People are living peacefully for hundreds of years and living upon Jum cultivation in Chittagong Hill track.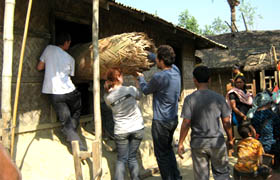 However, after 1992 there was a huge blood shedding conflict between local settler Bangali and indigenous & tribal people in Chittagong hill track. In this a collision, a huge massacre took place and lots of indigenous & tribal people had lost their life. After that, though a peace accord was signed eleven years earlier in 1997, there has been a catastrophic failure to implement the accord's terms, and human rights violations increased dramatically when Emergency Rule was declared in January 2007.
More than fifty indigenous activists have been arrested since January 2007, often on false arms charges. Many have been tortured and given long and unjust prison terms, and two Jummas have died in police custody and their human rights were violated severely.
Realizing the facts, each one of all 18 volunteers has decided to send a petition to honorable Prime Minister Sheikh Hasina of Bangladesh to let her know their concern about the violation of human rights and to take proper initiative for humanitarian response about these indigenous group of people. Each of the Global Xchange volunteers has started the campaign by signing the petition to the PM. With this connection, Muhhammad Umar Khaiyam GX volunteer & member of Amnesty International said, "Movement against any violation of human rights will be successful, when citizens of the society will be aware about exploited section of people and stand beside them to voice out for them".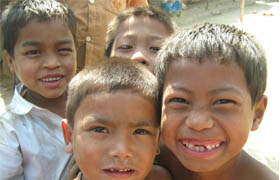 Later the volunteers passed time with the children and fixed the roof of their only school in that area. They have also distributed books and other primary education related instruments to them. Moreover, they have also painted the school fencing colorfully so that it can be long lasting as well as lively to enjoy their class times in schools. Toffazzal Liton, one of the volunteers, told, "Tribal and indigenous people are the most exploited community in our society. Only if we are sincere about their human rights and show respect, we can change their ill fate tomorrow".
Finally, all the volunteers agreed upon stepping forward for the rights of people and continuing advocacy in local and international level. They have also urged local authority to be more attentive about violation of Human Rights of Indigenous & Tribal People of Bangladesh.