YPSA's Disaster Risk Reduction and Emergency Management Unit (DEMU), Started three days training for the Community Volunteer's on "Search and Rescue" under the technical support from Actionaid Bangladesh and financial Support from European Commission Humanitarian Aid Office (ECHO).
The training was inaugurated by Director (training), Fire-service and Civil Defense Bangladesh. Major M.M Matiur Rahman, Mr Nurul Haq, Asst Director, (Training) and Mr. Akhlakur Rahman programme Officer DIPECHO V, Actionaid Bangladesh was special guest and the inauguration ceremony was Chaired by Mr. Palash Chowdhury (Director Finance), Mr masud Rana YPSA (programme Manager) gave welcome speech, senior officials, course instructors from YPSA and Fire service and Civil Defense Chitagong also present there.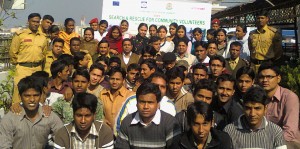 Under this training program 180 community volunteer of YPSA will take this training in four training started from 31st December 2009 which will end at 14th January 2010 at YPSA- Human Resource Development Centre, Chitagong. At the end of the training programme one grand practical drill will be conducted by the Fire service and Civil Defense Chittagong , support from YPSA, CODEC under the DIPECHO V project at Chittagong outer stadium on 16th January 2010.