YPSA & Chittagong District Administration Office jointly observed International Day for Disaster Risk Reduction on October 13, 2011 keeping the slogan "Making Children & Young People Partners in Disaster Risk Reduction". Colorful rally, discussion meeting and a rescue drill were arranged at Bangladesh Mohila Samity School & College to mark the day. Mr. Ehsan Elahi, ADC (General), Chittagong inaugurated the rally by flying colorful balloons in the air.
The rally was brought on the day from the Laldighi, Chittagong and circumambulates several important places and then gathered at Zila Porishod Auditorium, Chittagong for a discussion meeting. Mr. Abdul Malek, DRRO, Chittagong and other Government & Non-government officials also took part in that procession. People from all classes including Children and Youth spontaneously participated in the rally with colorful festoons, banners for arousing consciousness on disasters. Thus the rally drew the attention of the public very nicely and the purpose of the rally was really served. It created much of awareness among the citizens of Chittagong and they have been largely benefited.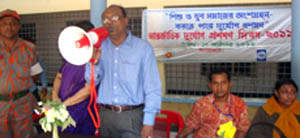 YPSA and District Administration jointly arranged a discussion meeting and performed a mock drill on rescue in emergency situation at Bangladesh Mohila Samity School & College . Mr. Khaled Mamun Chowdhury, ADC- Education, Chittagong, Ms. Hosne Ara Begum, Dist. Education Officer, Chiitagong, Ms. Anowara Begum, Principal, Bangladesh Mohila Samity School & College , Mr. Faridur Rahman, Asst Director, Fire Service & Civil Defense, Mr. Osman Goni, Trainer, Fire Service & Civil Defense and Mr. Mahiuddin Hafiz, Focal Person, DRR & Emergency Mgt unit (DEMU) of YPSA were also present at the meeting. In addition, YPSA DEMU officials Ms Frah Amina, Mr Farouqe, Mr Shibshankar took part at the meeting.
At the meeting Mr. Hafiz delivered the key speech. In his informative speech he discussed elaborately on the importance of the day and causes & impacts of earthquake and also put emphasis on what to be done by everyone during the earthquake disaster – one of the most destructive disasters that happened many times in recent years. He also drew the attention of all to be careful about the Children and person with disabilities. He advised the audience to be careful and to take adequate measures before it was much too late. He analyzed the available situation that happened around us and ventilated his opinion Chittagong poses a high risk of natural and man made disaster. He further added that disaster risk can be reduced by being fully conscious about the dangerous consequences of it. Further he informed that YPSA has been working for raising public awareness on disasters for a long time by its DRR & Emergency Mgt Unit (DEMU).
All of the speakers put emphasis on the role of the children and youths in disaster risk reduction. They opined, "Children and young people need to be empowered and supported as agents of social inclusion and safety and their actions to reduce disaster risk must be recognized. It is also important to include these actions with national and community development as well as achieving the Millennium Development Goals. Governments, companies and communities should systematically ensure children and young people's participation in their decision-making processes for building disaster resilient societies".
At last a skillful and experienced team of Fire Service & Civil Defense performed a mock drill on rescue in emergency situation. All of the viewers including students, guardians, teachers and staffs of Bangladesh Mohila Samity School & College enjoyed the performance of the team.
It is worth mentioning that YPSA played the pivotal role in collaborating the activities of the Government and NGOs and observing the IDDRR 2011. All of the speakers thanked & highly praised the activities of YPSA in this regard and emphasized the need for such helpful organizations.