YPSA's Development Initiatives for Social Change  project organized different programs in Sitakund to observe Child Rights Week 2011 Emphasizing creating a child-friendly environment in the country through ensuring the safety of children from exploitation and deprivation.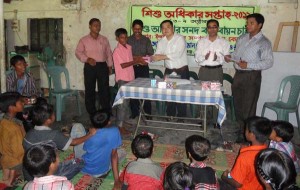 Children's Week is an annual event celebrated in Australia during the fourth week in October. In 1996 it was decided to adopt a permanent theme: "A Caring World Shares" as a reflection of Children's Week aims while at the same time acknowledging the designated year on national posters and other printed materials.
A diverse range of events and activities are organised at National, State and Local levels. These focus the attention of the wider community on children, their needs and achievements.
Children's Week celebrates the right of children to enjoy childhood. It is also a time for children to demonstrate their talents, skills and abilities.
Thousands of children and their families around the country are involved in activities and events during "The Week" through the participation of schools, playgroups, childcare, kindergartens, cultural groups, libraries, departments and community groups.