Two advocacy meeting on rights of climate displaced people were arranged in Khulna and Satkhira districts with the support of Displacement Solutions.  YPSA and Loving Care for the Oppressed Society (Locus) jointly arranged a meeting at ASOD conference hall, Khulna on 27 November. YPSA and Society of Development and Education for Small Households (SoDESH) jointly arranged a meeting at Satkhira Officers Club conference hall, Satkhira on 28 November'12.  NGOs and Civil Society groups working on climate displaced people under YPSA's Housing Lands Property Rights Initiative project attended the meeting.  
Meeting in Khulna
Mr. Shekh Harunur Rashid, Administrator of Khulna District & former chief whip was present as a chief guest while Mr. Debu Prashad Sharkar presided the meeting. Formar Lt. Cornel  Anowarul Kader, Advocate Firoz Ahmed, Mr Ali Akbar tipu councilor, 25 No word of Khulna city corporation, Advocate Kaniza Humaiar (Khulna Bar), Tusar Kanti Roy (Assistant professor of KUET, Shamim Abedin (ED of AOSED), Gazi Ashraf Hossain (Chairman of Sutarkhali), Uma Shankar (Chairman of Kamarkhali), Mahfuzur Rahman (Divisional Coordinator of BELA) were present in the meeting.
The chief guest says in his inaugural speech that everyone should come together to protect rights and betterment of coastal climate victim landless people. He also expects that honorable prime minister should pay attention for the climate victims.
Program officer Mr. Syed Assraf Ullah HLP program introduce YPSA to the audience and Mr. Subir Das focal person Youth Program YPSA presented the key note on HLP rights.
Meeting in Shatkhira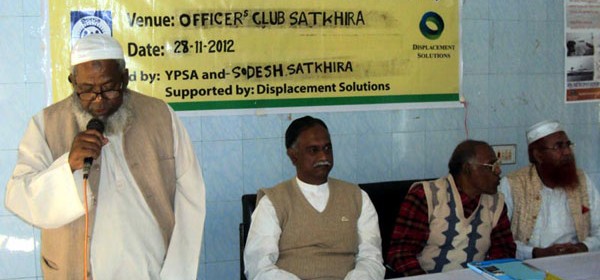 The meeting in Shatkhira was presided by Abdul Hamid Principal of Satkhira Commerce College, M.A. Jalil Mayor of Satkhiara Pourshova was present as chief guest. Abdul Mannan President of Satkhira Chamber of Commerce, Panel Mayor Sheik Shafiq-ul dulla, Journalist Suvash Chowdhury President shatkhira press club, Professor and journalist Anisur Rahim, Journalist Mostafizur Rahman, Ward Counselor Farida Akter, General Secretary of Bangladesh Mohila Parished Satkhira District Joshna Datta also participated in the meeting.
"Shatkhira is one of the worst climate affected area of Bangladesh. Rehabilitation of these large populations became a burning issue; multistoried residential facilities should be introduced here or other cities. Land management policy should also be reviewed" Speakers said.
Program officer Mr. Syed Assraf Ullah, HLP program introduces YPSA and Mr. Subir Das, focal person of Youth Program, YPSA presented the key note on HLP rights in both events.