With the theme "We will go abroad complying with law, build our country bringing in remittances" YPSA, Cox'sbazar District Administration, Cox'sbazar District Employment & Manpower Office and Survivor Voice ANIRBAN Jointly organized colorful rally, discussion meeting, information fair & documentary film show at Cox'sbazar on 18 December to mark the International Migrants Day 2012.
Md. Ruhul Amin, District Commissioner of   Cox'sbazar District Administration was present as chief guest while Mr. Khondokar Jahirul Islam, Additional District Commissioner of Cox'sbazar presided over the discussion meeting. Mr. Ramiun Kanti Das, Assistant Director, District Employment & Manpower Office Mr. Chttra Dhar Tripura, Senior Assistant Police Super, Cox'sbazar, Mr. Abu Morshed Chowdhury Khoka, President of Cox'sbazar Civil Society, M. Jubaer Azam Helali, Managing Director of Islami Bank, Cox'sbazar, Mr. Sirajuddin Belal, Program officer of YPSA spoke in the meeting.
After the discussion meeting, 3 migrants were awarded as best remittance sender. Information fair and Documentary film show were arranged at the DC office premises.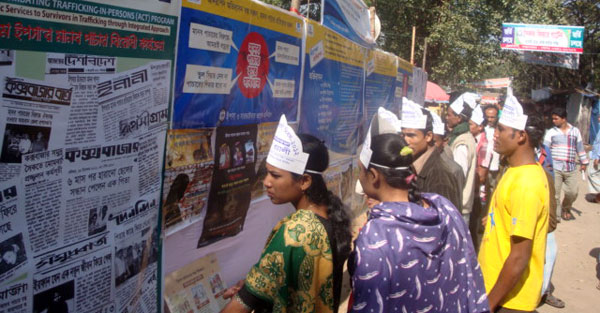 As per the Ministry of Expatriates Welfare and Overseas Employment, the amount of remittance in 2011 was 1, 217 crore US dollars. The ministry hopes that the amount will be crossed 1, 400 US dollars in 2012.
Over 8,00,000 Bangladeshi workers are employed in different countries of the world who sent remittances to the home.
The United Nations (UN) has observed the 18th of December as International Migrants Day since 2000 to ensure rights and respects of the migrants and evaluate their contributions. The decision was taken at the 55th UN General Assembly held on December 4 the same year.
Earlier, the UN General Assembly adopted the 'International Convention on Protection of the Rights of All Migrant Workers and Members of Their Families (ICMR)' on December 18, 1990. But all the members of the UN have observed the day since 2000.