YPSA Development Resource Center (DRC) has started its new journey with its new approach. Mr. Khurshedul Islam, Convener of US Progressive Forum inaugurated the DRC  at YPSA Head Office on 12 February 2013. Mr. Ahsan Ullah Chowdhury, former politician and trade union leader was present in the program.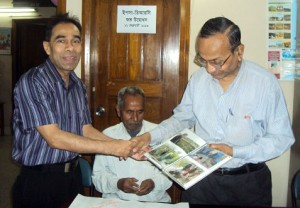 Mr. Khurshed said, "NGOs are playing vital role in the development of Bangladesh. They contribute significantly in women empowerment, poverty reduction, disaster risk reduction etc. I think development workers should acquire knowledge from all sources such as library, internet etc.  I hope the DRC would help YPSA activists to gain all sort of knowledge to make them robust for facing the challenge of 21st century".
Mr. Mahbubur Rahman, Director social development, Mr. Polash Chowdhury , Director Finance,  Mr. Monzur Murshed Chowdhury Director economic development  and other YPSA officials were present in the program.