Mr. Md. Sanaul Huq, Additional Deputy Commissioner (Education and Development), and Ms. Suraya Akter Swety, Assistant Commissioner of Chittagong District Commissioner Office visited YPSA on June 4, 2013. They joined a meeting with the senior officials of YPSA at the head office, Chittagong. Mr. Md. Mahabubur Rahman, Director (SDP), YPSA presided over the meeting.  Mr. Subir Das gave presentation on YPSA while Mr. Md. Shahjahan presented the YPSA's climate change related project 'Bangladesh Housing, Land and Rights Initiative (HLP)'. Mr. Sanaul Huq asked different questions about the activities of YPSA and HLP project facts.
He was very pleased and impressed knowing about YPSA and he appreciated YPSA a lot for its social development activities. He said, "After joining the Chittagong DC Office, YPSA is the first organization I am inspecting it as a NGO in Chittagong and its overall program.  YPSA is doing well for the society and human development". He also observed technical presentation on Digital Accessible Information System (DAISY) presented by Mr. Vashkar Bhattacharjee.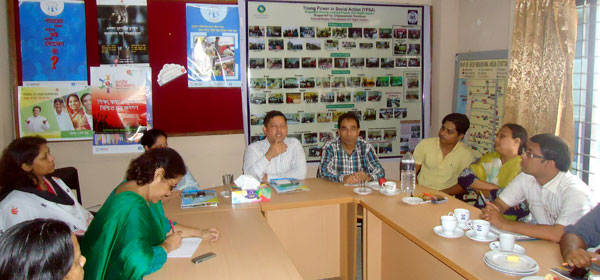 Furthermore, they visited the Development Resource Centre (DRC) and observed the resource documents preserved in the library. They were very much happy to see the many important publications and reference books in a one place.
Ms. Suraya Akter Swety says that climate displacement issue is a new program for Bangladesh as far I know. I have learnt many new things on climate change adaptation and displacement statistics in Bangladesh. The research and advocacy approach on HLP project will be helpful for Bangladesh Government to take initiative something new for displaced peoples.
Visitors gave thanks to YPSA for implementing the up-to-date theme for the new millennium. They wish great success for the future of YPSA and HLP program in Bangladesh.