YPSA organized a Critical Engagement Meeting with the Law & Enforcement Authority, Govt. officials, Journalist & Civil Society at Feni on 22 June 2013. Representative from Police, RAB, BGB, NSI, and govt. officials from DEMO, District Information office, District women affairs office, Social Welfare office, District Youth & Sports Department, Journalists, NGOs and lawyers were present in the meeting.
The meeting focused ensuring more involvement of concerned governmental authorities, NGOs and civil society to find out the way to prevent human trafficking and unsafe migration from Feni district.
Police Super of Feni Mr. Paritos Ghos was present as the chief guest while Mr. Abu Taher, President, SUPRA and district representative of The Daily Prothom Alo has presided the Meeting. Md. SIrajuddin Belal, program manager of YPSA has presented the ongoing survivors service care, support activities and the new TIP Law 2012, YPSA's ongoing program titled  "Promoting Basic Services to Survivors in Trafficking through Integrated Approach"  supported by Winrock International and USAID activities, present situation of human trafficking at Feni, finding out the way and role and responsibilities to stop trafficking & unsafe migration from Feni were the main topics in the meeting.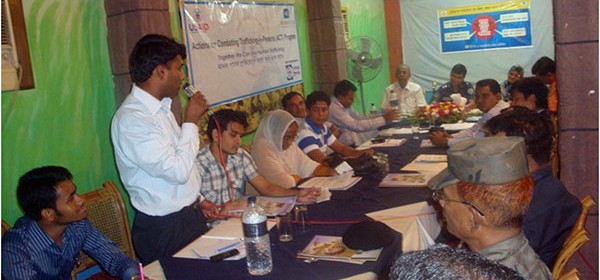 Representative from Law & Enforcement Authority (Police, RAB, BGB, NSI, DB etc) have given their commitment to give necessary support to stop human trafficking and unsafe Migration.
Journalists have given their commitment to write report about the Trafficking in Persons report and law. All participants emphasized to raise awareness at the trafficking prone areas.