YPSA in collaboration with a local organization LoCOs organized a workshop on "Mapping Study of Actors and Institutions of Bangladesh Govt. relevant to climate displacement" under the project Bangladesh Housing, Lands and Property Rights Initiative at AOSED conference room, Khulna on 12 June, 2013.  Representatives from govt. department, NGOs, civil society groups, researcher, academicians and other stakeholders were present in the workshop and deliver their speech in the workshop about the rights of climate displacement communities.
The chief guest of the workshop was Mr.Tarun Kanti Shikder, Director of Department of Environment, Khulna. Mr. Deb Prasad Sarker, Executive Director of LoCOS presided while Professor Anwarul Kadir, executive director of Sundarban Academy moderated the workshop.
Special guests were Assistant Professor of Khulna University Mr. Kusol Roy, Assistant Professor Mr. Tusar Kanti Roy, Department of Urban and Regional Planning, Khulna University of Engineering and Technology and Executive director of CCEC Mr. Mowdudur Rahman.
Program Officer of YPSA Mr. Prabal Barua and Subir Das delivered their opening speech and gave power point presentation on involvement of different ministries/ department of Bangladesh government, international donors, civil society groups and working international, national and local NGOs on climate change adaptation and displacement issues in Bangladesh. They also highlighted the activities and outcome of completed first phase of Bangladesh Housing, Lands and Rights initiative project with the support of Displacement Solutions.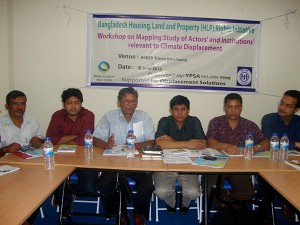 Chief Guest of the workshop Mr. Tarun Kanti Shikder Director of Department of Environment, Khulna thanked YPSA for working first time in Bangladesh. He said, "Although Khulna is highly vulnerable to climate change but only 5 projects are implanting here under the Bangladesh Climate Change Trust Fund".
Divisional Coordinator of Bangladesh Environmental Lawyers Association, Khulna Mr. Mahfuzul Rahman Mukul, Sariful Islam Selim, executive director of Humanitywatch, Mr. Manira Begum, Chief Executive of Development and Rehabilitation Organization, Prasanta Bishwas, Chief Executive Director of SIDAP, Mr. Asim Paul, Mrit Shilpa Unnayan Sangsha, A. Alauddin, Dainink Purbanchal, Kusik Dey, staff reporter of Daily Kaler Kontho, Begum Momtaj Khatun from Asroy Foundation gave their comments and suggestion for strengthening YPSA's research on Mapping Study for Climate Displacement in Bangladesh.