Aiming for "Stop Violence and Build a Peaceful Bangladesh", Young Power in Social Action (YPSA) arranged a round table discussion at 03 November, 2014 on YPSA-HRDC auditorium, Sitakunda, Chittagong, under the campaign on BD with me (www.facebook.com/BDwithMe). This discussion was a great success with 33 invited participants participating in it with various professions as teacher, businessman, social worker, student, government employee, service holder, UP member, housewife, unemployed and journalist etc.
This round table discussion was chaired by Shah Sultan Shamim, Station Manager, Radio SagorGiri FM 99.2 and Facilitated by Newaz Mahmud and Abdus Sabur, YPSA. The key speaker of this campaign was Md. Shah Alam, Upazilla Youth Development Officer, Sitakunda, Chittagong.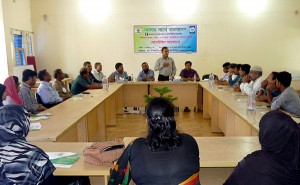 This roundtable discussion was start by the addressing speech of Md. Absus Sabur, YPSA. He presents the goals and objectives of this campaign. Also share the causes, effects and remedy measure of violence.
Here, ten participants toke discussion on "Stop Violence and Build a Peaceful Bangladesh".  In discussion Shah Aziz (Photo: 01), a school teacher said that "He shared learning on solving social violence, this knowledge he gathered from YPSA Leadership Development Program Training in conflict management chapter. He shared some techniques on conflict management"
A female student Reshmi Akter said that; "Self motivation can stop violence, he also argued that community radio and media can play a vital role on prevent violence"
A social Worker Shahana Akter said that "we should be work first for prevent violence on woman in all spheres"
A businessman Shafiul Alam said that "If we abide state laws and respect to each other, than we can minimize violence in community"
A representative of disable person organization (DPO), Shamsul Alam said that "Laws and Order Department could play a strong role on prevent violence in community."
A retard government employee Humain Kabir said that "Practice of Democracy and Good Governance is first and foremost for prevent violence also building peaceful nation"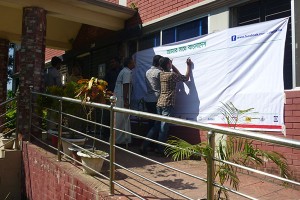 Key Speaker Md. Shah Alam, Upazilla Youth Development Officer said that "we should be find out the causes of violence and aftermath take remedy measure, should be change in our mentality and prior youth in decision making than we can stop violence and build a peaceful Bangladesh"
Finally, forecaster of this round table discussion Shah Sultan Shamim said that "we are peace loving nation, but sometime violence disturbance our national harmony. We need to take a necessary step to prevent violence in jointly. If we can make the people are more aware about it, if we can make the people believe that violence disturbance national harmony and causes of economic losses than this could be goes down".
After roundtable discussion a signature campaigns have been starting, it will continue at 08 November, 2014. This signature campaign was inaugurated by Md. Shah Alam, Upazilla Youth Development Officer, Sitakunda, Chittagong.