Disabled Student Society of Chittagong University (DISSCU) arranged an orientation program on "DAISY Books and Marrakesh Treaty" in collaboration with Sitakund Federation of DPOs, University of Chittagong, YPSA and Disability Rights Fund (DRF). The program held at Institute of Fine Arts auditorium, University of Chittagong on 25 June, 2015. In this program, student with disabilities demanded the ratification of Marrakesh Treaty by the Bangladesh government. They said, "Reading is our rights, without any barrier we want to get access in any reading materials in alternative format."
Vice-chancellor of Chittagong University, Professor Dr. Iftekhar  Uddin  Chowdhury was present as chief   guest and  he committed to the students that University of Chittagong authority would take necessary measures to ensure quality education for student with disabilities."
"In the mean time we have taken some steps such as admission quota, stipend etc for student with disabilities of Chittagong university." he added.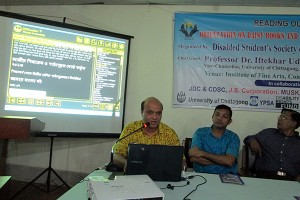 Vashkar Bhattacharjee, Program Manager, YPSA and country representative GAATES  presented a keynote papers on DAISY books and briefed the importance of digital books considering the current context of students with vision disabilities in Bangladesh. He said, I did not get any accessible page of text books, when I was a student of Chittagong University, but now 22 thousand pages of text books are available for visual impaired students.
He firstly introduced the Marrakesh Treaty to the audience, and he delineated, "Marrakesh Treaty to Facilitate Access to Published Works for Persons Who Are Blind, Visually Impaired, or otherwise Print Disabled".
"Now ended the moment of mercy and kindness, build the Bangladesh digital." Vashkar Bhattacharjee added.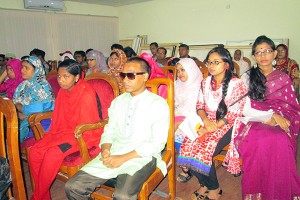 Md. Shahajan, student of International Relationship, General Secretary of DISSCU, moderated the program. Former Dean, Professor Gazi Salauddin, Department of Sociology, Professor M Shafiul, Department of philosophy, Proctor Ali Azgar, Chittagong University, Didarul Alam, founder of Chittagong Abahani Ltd, Osman Goni Monsur Chief editor, Daily Purbodesh and  Mr. Abdus Samad, head teacher Government school for the blind, were present as special guest and delivered their speech in that program.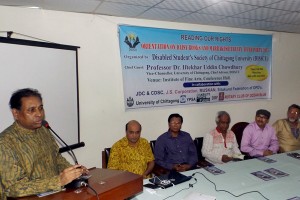 Md. Hasan, Vice President, DISSCU, demanded to Dr. Iftekhar Chowdhury, Vice-Chancellor of Chittagong University, to make text books in accessible formats, currently no student with vision impaired can avail accessible study materials and secondly to create employment opportunities for the persons with disabilities at this university, and Vice-Chancellor assured, all claims of students with vision disabilities will be implemented in accordance with limited resources of university.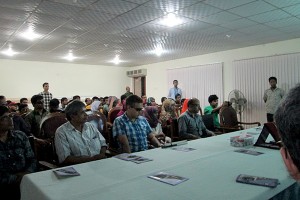 It is noted that, 32 text books for university have already converted in accessible format and all text books of class 1 to class 10 are available in alternative formats, such as Braille , Multimedia and Unicode format etc, and more works are going on through the support of Access to information program, Prime Minister Office  and YPSA is leading in the process, and keeping partnership with Access to Information (a2i) program of Prime Minister's office of Bangladesh,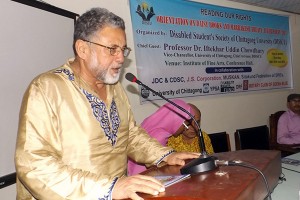 Accessible Books Consortium (ABC), World Intellectual Property Organization (WIPO), Disability Rights Fund (DRF), Australian Aid (AUSAID) , DAISY Consortium , Information Society Innovation Fund (ISIF Asia) , Federation of DPOs Sitakund , Global Alliance on Accessible Technologies & Environment  (GAATES)  and Community Radio Sagor Giri FM99.2.