YPSA-Leadership Development Program organized two 4-day training workshops on Youth and Community Leadership through Appreciative Inquiry, at two Unions of Mirsarai Upazila, Chittagong. During 5-8 July, 2015, the Community Leadership Training workshop was held at Wahedpur union and the Youth leadership Training workshop was held at Mayani Union of Mirsarai Upazila. 28 young people and 28 community leaders participated in two workshops.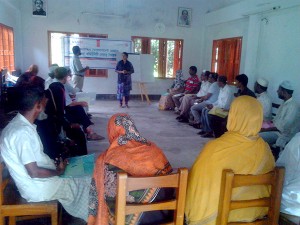 Leadership Development Program (LDP) implemented by YPSA that funded by USAID and supported by Counterpart International
Mr. Salauddin Selim, Chairman of Wahedpur Union Parishad inaugurated the Community Leadership training workshop. Mr. Kabir Ahmed Nijami and Md. Nurul Absar from Professor Kamal Uddin College jointly inaugurated the Youth Leadership Training Workshop in Mayani Union.