"We has become lower middle income country with the active engagement of youth and will turn as a developed nation by 2041 by active engagement of youth too." said Divisional Commissioner of Chittagong Mr. Abdullah while he was addressing in an inaugural ceremony of Youth Fair, Youth Dialogue and cultural function held at Chittagong   Shilpakala Academy in connection with the International Youth Day 2015 organized by YPSA with the support of UNDP.
"The main drive of Socio-economic development of a country is its vigorous population and a major part of that population is youth. To make Bangladesh middle-income country, young people should be grown up with technology besides quality education.  Youths are required to train and groom to develop their potentials, personalities and functional capabilities. Much more attention should be given towards their leadership and entrepreneurial skill development activities.  Youth focused development strategy, planning and guideline are essential. "Speakers said in the inaugural ceremony.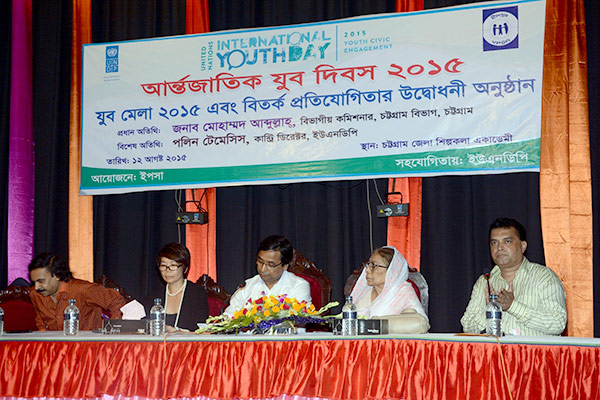 Country Director of UNDP Polin Tamesis was present as special guest in the program. YPSA's Chief Executive Md. Arifur Rahman gave welcome speech in the program.
Debate competition on "Only youth employment can prevent depreciation of society" was arranged in the second round of the program. School of Debate, Chittagong University and Dristi attend the competition and Dristi became champion.
On the third round, 350 young people participated in the Youth Dialogue.  The daylong program ended followed by a cultural function.
The theme of International Youth Day, 12 August 2015, is "Youth Civic Engagement." The engagement and participation of youth is essential to achieve sustainable human development. Yet often the opportunities for youth to engage politically, economically and socially are low or non-existent.