Community Legal Services, Team leader Mr. Jerome Sayer and Projects Coordination Specialist Mr. Nafiz Imtiaz Hassan visits YPSA-Community Legal Services for Access to Justice Programme Area Fatikchari, Chittagong on 22 June, 2016. This visit was facilitated by Md. Mahabubur Rahman, Director-Social Development Program (SDP), YPSA and co-facilitated by Md. Abdus Sabur, Program Coordinator, YPSA-CLS Programme. The visit was commencing by a visit of Community Legal Services Centre (CLS Centre), Rangamatia, Fatikchari, Chittagong.
Visitors observed how field facilitator and YPSA panel lawyer provide legal services and information to legal remedy seekers during their visit to CLS Centre. They also talked a beneficiary and seek her opinion, how she benefited from YPSA CLS program. After CLS Centre visit, visitors made a discussion meeting on Haroalchari Union Legal Aid Committee (ULAC) and Elected Members of Haroalchari Union, Fatikchari. This discussion meeting ULAC members said, YPSA provides some paralegal training which was most effective for them after received the training it is now easy for conduction local level mediation.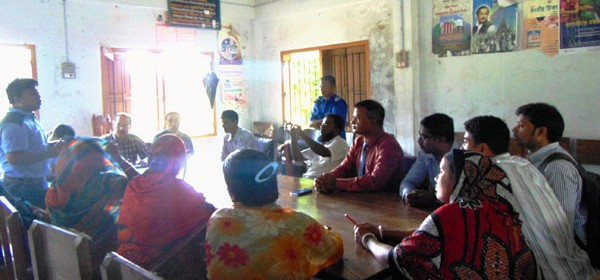 At this session, CLS team leader asked ULAC members to share any activity regarding community legal services in last month. In the answer of the question ULAC members Nipu Rani Dey said in last night she made a successful counseling between husband and wife quarrel. Another UP members said in last month he stopped an early marriage on his community. CLS Team leader visits Haroalchari union digital centre for observe, how YPSA digital talking books works for person in disabilities and semi literate people.
Visitors attend a discussion meeting with YPSA CLS coalition members of Suabil Union, Fatikchari. At discussion meeting coalition members said that, they are now acts as paralegal volunteer at community and assist in conduction of mediation at community.
At the concluding session, Team leader Mr. Jerome Sayer said that, community are now being aware on their legal issues and rights, which was a very positive things and he thanks to all participants of this meeting. Finally, YPSA Director- SDP, Mr. Mahabubur Rahman thanks to visit team and all participants, he call for working together in against of social evils and superstation.
Mr. Mahabubur Rahman was given a token of appreciation to the visit team members on behalf of YPSA.
YPSA-Community Legal Services for Access to Justice Programme aims to provide greater access to justice to the poor, marginalized and socially excluded communities in Chittagong and Cox's Bazar Districts which covers 76 unions, under six upazila of these two districts. This programme is funded by UKaid and supported by Maxwell Stamp PLC, the British Council and the Centre for Effective Dispute Resolution (UK). YPSA has been implementing this programme by BLAST-YPSA consortium.