A project inception meeting on "Relief Support for Cyclone Affected Population in Need in South-East Bangladesh" was held at the conference room of Kutubdia Upazila, Cox'sbazar on 3 October 2016 which organized by YPSA and supported by Concern Worldwide. The meeting was chaired by Mr. Salehin Tanvir Gagi, UNO of Kutubdia. All union parishad chairman, govt. officials, journalists, NGO representatives and teachers participated in the meeting.
Program Manager, YPSA welcomed to everyone and gave a short overview on YPSA and briefly presented the project goal, objectives, major activities, beneficiaries, working areas, CRM and HAP issues. He also requested to all respective 5 chairmen to share their opinions.
Md. Shahriar, chairman of Uttar Dhurung union said, "Most of the people of  my union affected by cyclone ROANU. YPSA and some of other NGOs gave emergency relief support but it was not sufficient. Some affected people did not get any support. So we should rethink about this.
Md. Nazrul Islam bulbul, Program Coordinator of Concern Worldwide said in response to Shahriar, "Under this project, we will actually work with previous selected beneficiaries who are already received unconditional grant support from START fund, IRISH fund and JOAC fund. We are also trying for community development through our different activities like nutrition, DRR & wash. We will provide 06 flood resilient latrines and 50 tube-wells repairing with high platform."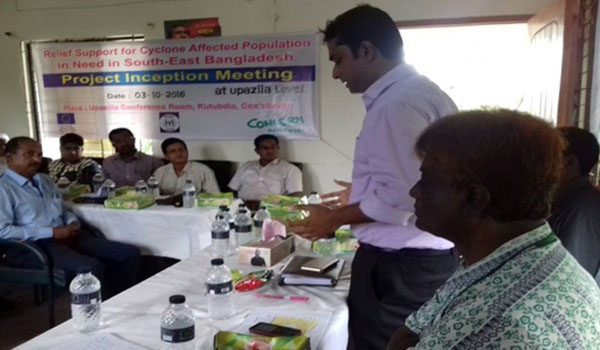 UNO of Kutubdia Upazilla said, "I would like to thank YPSA and Concern Worldwide to take this type of initiatives and suggest continuing this type of work in rest of 01 union (Lamsikhali) at Kutubdia Upazilla."