YPSA-Community Legal Services for Access to Justice (CLS) Project has formed 15 coalitions at project area (Chittagong and Cox'sBazar). These coalitions are formed on the base of CLS center. Each coalition is comprised of 25-30 members. The types of coalition members are community people who have mentality on volunteerism, have social acceptability, social dignity, local elective members, teacher, kazi, journalist, representative on CSO/CBO, religious leaders, women's leaders, youth leaders etc.
These coalition members are now acting as a messenger of community legal aid services at the community. YPSA-CLS has been providing various training, workshop, conduct follow-up meeting for the coalition members for increasing competency and knowledge on legal education and information as well ensure the access to justice at the community.
To assess the knowledge of coalition members as well as share the services of district legal aid, Farhana Yasmin, Senior Assistant Judge and District Legal Aid Officer, Chittagong attended a follow-up meeting of coalition member at Damairhat, Rangunia, Chittagong.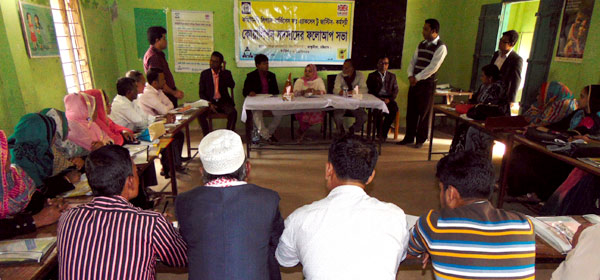 This meeting was held at North Rangunia High School. Ahmed Sayed Talukder-Chairman, South Razanagar, Rangunia and Alamgir Hossain-Headmaster, North Rangunia High School also Kamal Hossain-Vice Principal, North Rangunia Degree College were present in the meeting.
This meeting was facilitated by Mr. Joynal Abedin, Upazilla Manager, Rangunia and Co-facilitated by Ratan Barman, Field Facilitator.
Abdus Sabur, Programme Coordinator facilitated a session on roles and responsibility of coalition member. Jasim Uddin, Programme Officer also facilitated a session on how coalition members sustain program activity after the project.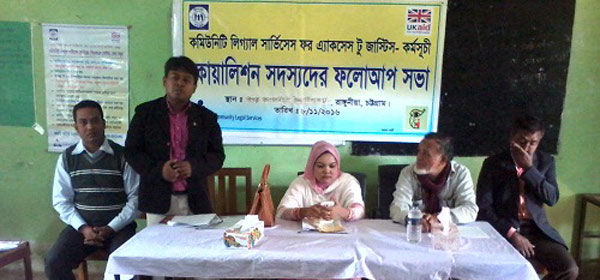 After the facilitation, an open discussion was held, which was facilitated by District Legal Aid Officer (DLAC), Chittagong. At the discussion, coalition members asked a various question to DLAC officer. DLAC Officer delivered the answer on against of each question. At discussion meeting, coalition members also said that they are now informed on compoundable and non-compoundable cases. Also informed where they have to go or refer for legal aid service and information.
At concluding session, Farhana Yasmin, District Legal Aid Officer, Chittagong said that DLAC is open for all to provide legal aid services, especially for underprivileged and marginalized people. She also said that a lot of cases are coming to DLAC, which was referred by YPSA-CLS center. She praises the activity of YPSA-CLS as well as its coalition members. Finally, she believed that CLS interventions are brought support to access to justice at community.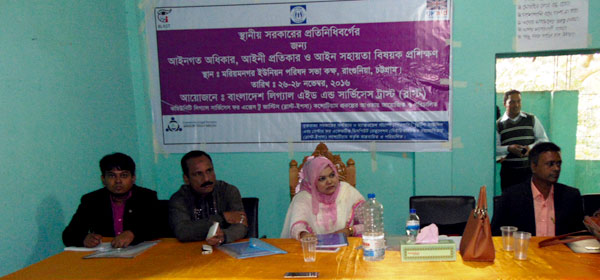 District Legal Aid Officer also visits training on legal rights and remedies for local government members at Moriamnagar, Rangunia, Chittagong.
YPSA-CLS is funded by UKaid and supported by Maxwell Stamp PLC, the British Council and the Centre for Effective Dispute Resolution (UK). YPSA has been implementing the program through BLAST-YPSA consortium.