"Tobacco control issue will be included as an agenda in Monthly Coordination Meeting (MCM) and monthly report in Chittagong Division" as declared by Divisional Commissioner of Chittagong Md. Ruhul Amin, in a sharing meeting on "Implementation of Tobacco control Law in Chittagong division" held at the auditorium hall of Chittagong Circuit House on 16 January 2017.
The meeting was organized by Chittagong Divisional Commissioner Office, initiated by YPSA and supported by Campaign for Tobacco Free Kids. In the meeting, Mr. Md. Ruhul Amin, Divisional Commissioner of Chittagong division was present as the chief guest while Mr. Mostafizur Rahman, Additional Secretary, Cabinet Division was present as an honorable guest.
The honorable guest Mr. Mostafizur Rahman, Additional Secretary provided directions to enforce the TC law at district and divisional level and he also said that everybody should play their responsibility from their own positions.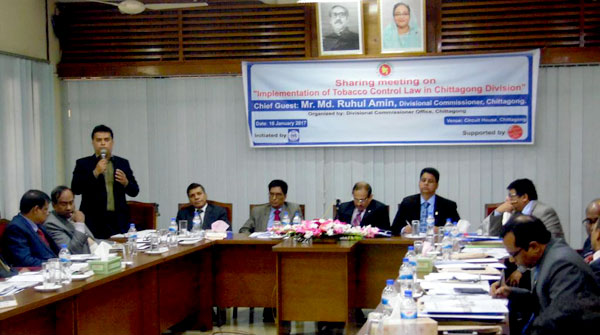 Mr. Md. Arifur Rahman, Chief Executive of YPSA moderated the open discussion in the meeting where participants shared their opinion to enforce the Tobacco control Law.
Additional Divisional Commissioners, 11 Deputy Commissioners (DC) of eleven districts of Chittagong division, 11 Chief Executive Officers of 11 Zilla Parisad, 50 Upazilla Executive Officers of 50 Upazillas of Chittagong division, magistrates and other government officials participated in the meeting. Dr. Mahafuzur Rahman Bhuyan, Grant Manager, CTFK and Mr. Palash Chowdhury, Director (Finance) also attended the meeting.
Ms. Nasim Banu, Team Leader, Smoke Free project, YPSA has presented the initiatives of tobacco control in 11 districts, violation of Tobacco control Law and some measures for effective implementation of Tobacco control law.