Community Engagement in countering violent extremism in Cox's Bazar (CEVEC) is an innovative project of YPSA that aim to eradicate extremism in Cox's Bazar district. The project started on 26th July and will end at December 2018. DG NGOAB Md. Ashadul Islam was the chief guest of inaugurating ceremony of the project held at Cox's Bazar Deputy Commissioner Office auditorium.
Annual Review meeting of the CEVEC project held on 29th December 2016 at YPSA CEVEC Offices, Cox's Bazar. The meeting was presided over by Team Leader, CEVEC Project Ms. Khaleda Begum. In the meeting Mohammad Shahjahan, Deputy Director, (Head), KM4D and CEVEC project Focal Point delivered welcome speech. YPSA CEVEC Consortium CMU Staffs, Project managers, FOs and FFs of all SRs were present in the review meeting.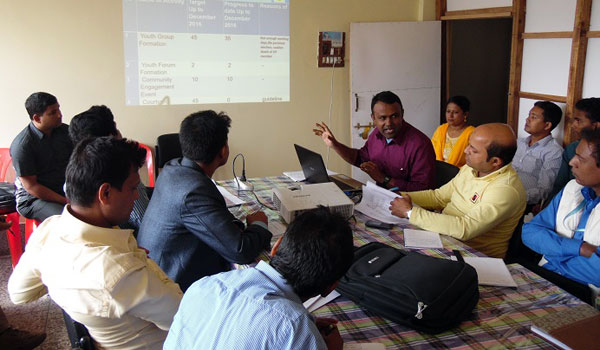 The objectives of the meeting is to share the experience of just passed year 2016, explore new ideas and prepare plan for the year 2017. The experience and suggestion will be used to modify the project activity, budget etc.
In the meeting Projects Managers shared the achievements and future plan through power point presentation. Field Facilitators and Field Officers shared challenges they faced during youth group and forum formation in field level. They also shared their techniques to overcome the challenges that helps other staffs to use it when face same kind of problems. In the meeting team leader shared the overall achievements of the project and thanked all staffs for engaging their level best effort.