YPSA organized a workshop on "Implementation of Tobacco Control Law in Rangamati" with the assistance of Campaign for Tobacco Free Kids and Bloomberg Philanthropies on 30th January 2017 at the conference room, DC Office of Rangamati.
Mr. Md. Manzarul Mannan, Deputy Commissioner of Rangamati district was present as the chief guest in the workshop. He commits that focal point officer will be assigned and TC issue will be incorporated in the monthly meeting agenda and report format.
Mr. Prokas Kanti Chowdhury, Additional Deputy Commissioner (Revenue) & Deputy Director of Local Government department, Md. Zahangir Alam, Additional Police Super, Mr. Swapan Kumar Paul, Deputy Director of Agriculture department, Mr. Sakhawat Hossain Rubel, General Secretary of Press club were present in the workshop.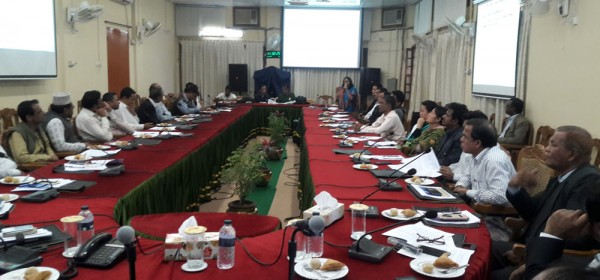 The district tobacco control taskforce members, authorized officers, representatives from Rangamati municipality were the participants of the workshop.
The main objectives of the workshop were to share Tobacco Control Law and Rules, role and responsibility of authorized officer/magistrate/taskforce.
Ms. Nasim Banu, Team Leader of Smoke Free Project of YPSA has facilitated the workshop and shared the information on harms of tobacco use, country status, government initiatives, overview of the amendment TC law and rules, violation of laws, role of authorized officer, taskforce and magistrate.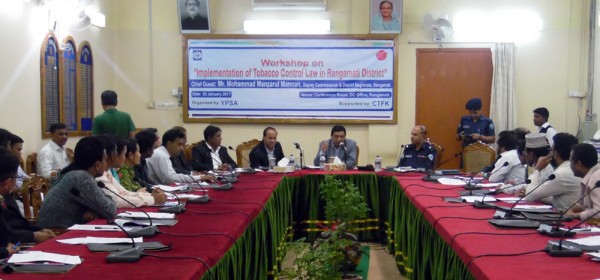 At the end of the workshop following decisions has come out from the participants
–  Islamic foundation will orient 565 teachers of 565 centres on harms of Tobacco use and TC law by which 16,500 children and adolescents will be benefited
–  Agriculture Loan committee of Rangamati decided that they will develop a database of tobacco farmer in Rangamati and will provide them incentive for alternative crop cultivation
–  Information office will arrange evening video shows on Tobacco control issue
–  DC office will circulate a notice of focal point officer in their web site
–  DC office will circulate a notice to all UNOs of Ranagamati for implementing TC law
– DDLG will provide a letter to all Upazilla and Union parisad for allocating budget for implementing Tobacco control program and conduct campaign for raising mass awareness
– TC issue and law will visualize through different board and stickers by DC Office
– DC office conducts E-mobile court where they will include the information of the enforcement of TC law
– Initiative will be taken for arranging taskforce meeting through Civil Surgeon
– Rangamati Municipality will utilize their budget for TC program
– Additional Police Super will discuss the TC issue in their different meeting.