Under the Bangladesh Counter Trafficking in Persons (BCTIP) Program, there held an interactive event titled 'Orientation on Role and Responsibilities for the Upazila CTC (Counter Trafficking Committee) Members' at Banskhali Upazila Hall Room on February 28, 2017. The U.N.O of Banskhali presided over the program.
Notably the BCTIP program is being implemented by YPSA in association with USAID and Winrock International in three districts of Cox's Bazar, Chittagong and Comilla. More than 50 people were present in the program. Among them, the Social Welfare Office and Secretary of the Upazila, Chairman and Vice Chairmen of Banskhali, four Union Chairmen, NGO representatives, members of law enforcing agencies and other concerning government officials and public representatives were present in the program.  Mr. Jishu Barua, Program Manager of YPSA-BCTIP Program facilitated the Orientation program while Md. Omar Sadek, Outreach Officer of the same program, efficiently organized the event.
In the Open Floor Discussion, members of the CTC stressed on the need of concerted efforts of all to combat human trafficking in the Banskhali Upazila.  Mr. Kazi Md. Chahel Tostori, UNO, said that human trafficking is a heinous act which could be countered if community leaders, law enforcing agencies above all people of all walks of life remain vigilant about such crimes in the society.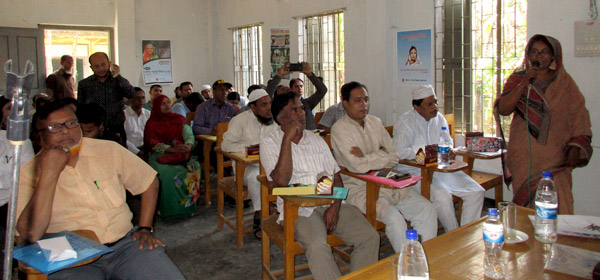 Mr. SujonSikder, S.I. of Banskhali said that Police cannot alone check human trafficking, and that they need the local representatives particularly the Union Chairmen to cooperate in combating human trafficking in the community. It is because they (Chairmen) can easily identify who are engaged in such criminal activities in their localities.
In the same tune, Md. Bodiul Alam, Upazila Social Welfare Officer, said UP Chairmen are the frontline leaders who can first take up advanced measures to carb such crimes at the community level. The Upazila Women Affairs Officer opined that if, in the gathers of women receiving, issues concerning Human Trafficking are discussed, information about it will massively spread in the community.
Mrs. Shapera Begum, Upazila Vice Chairman, committed that a vigorous awareness about human trafficking will be created in the upazila soon. Md. Aminur Rahman Choudhury, UP Chairman of Kalipur, said that human trafficking is like allergy for the community and we all should work together to stop it.
However, some significant decisions came up in the program, they are;
In every training of the VGD and other such programs in Banskhali Upazila, issues on Human Trafficking will be discussed.
UP Chairmen must hold meetings on Human Trafficking with due significance.
Teachers at schools will speak about Human Trafficking in the classrooms.