"The constitution of Bangladesh guarantees equal rights of all citizens. People with disability are talented like normal people. People with disability in different company or organizations demonstrate competence, security, loyalty and comparison in the organization's image. Therefore, all the organizations will have to create opportunities for people with disability" said Salahuddin Qasim Khan, former president of Bangladesh Employers Federation and Managing Director of AK Khan & Company,while he was present as chief guest in  a seminaron "Promotion of Disability Inclusion at the Workplace" held at the conference hall of Chittagong Chamber of Commerce and Industry (CCCI).
This seminar was jointly arranged by YPSA, Chittagong Chamber of Commerce and Industry (CCCI), Bangladesh Employer's Federation (BEF) and Bangladesh Business & Disability Network (BBDN). In collaboration with access Bangladesh foundation and disability rights fund.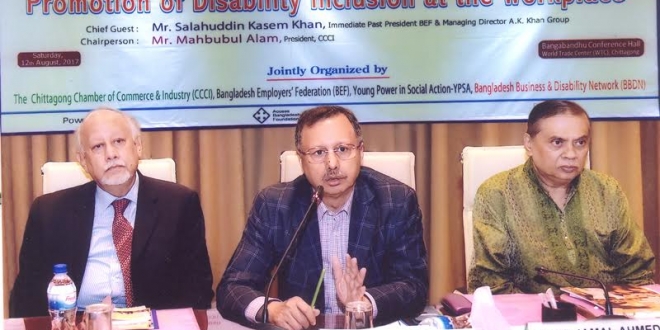 Salahuddin Qasim Khan proposed to recruit one percent of people with disability out of the total population in the public and private sectors and to set up a sub-committee in the Chittagong Chamber to work for the welfare of people with disability. He urged to build Chittagong as a disability inclusive city.
Chamber President Mahbubul Alam said that we need to change our approach toward the people with disability. In the developed world, special arrangements are made for people with disability everywhere. People with disability in our country are very devoted, honest and hard working. The merit of the people with disabilities should be evaluated properly. The government enacted the Disability Protection Act in 2013, which is very well-timed. He urged the government to remove the existing obstacles for them and provide tax exemptions from their monthly salary.
The chamber president also urges to provide adequate support to make them as entrepreneurs.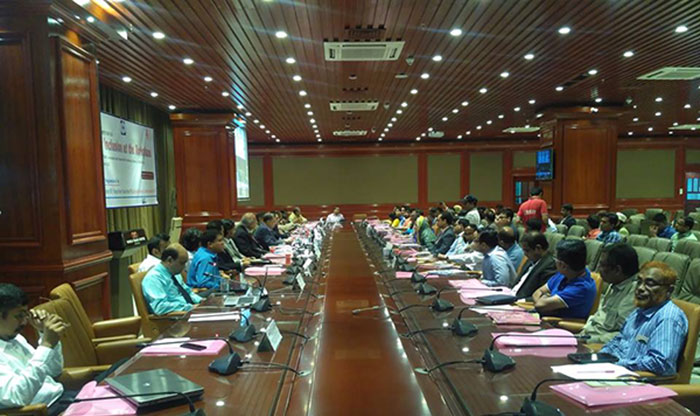 Chamber vice-president Syed Jamal Ahmed requested to employ more people with disability in the corporate houses and different industries.
It is to be noted that five persons with disability with post graduate degree from Chittagong University who attended the seminar were immediately announced for the appointments to different institutions. The residuals are requested for submission of their resume to the Chittagong Chamber of Commerce.
"We are expecting employers from Chittagong would be enthusiastic to employ people with disabilities at their workplace" said Vashkar Bhattacharjee, Program Manager at YPSA.
Among others, Chief Executive of YPSA Md. Arifur Rahman and directors of Chittagong Chamber were present in the seminar.