Helen Fielder, Senior Grant Manager at Global Community Engagement and Resilience Fund (GCERF) has visited activities organized by YPSA CEVEC Consortium at different places of Cox's Bazar Sadar on 13 November 2017. She was accompanied by Lilla Schumicky, Grants Officer at GCERF.
Firstly they have attended a Human Chain demanding violence free society and making people aware of violent extremism which was organized by youth group of 4 no ward, PM khali Union. Helen Fielder talked with youth leaders who organized the event.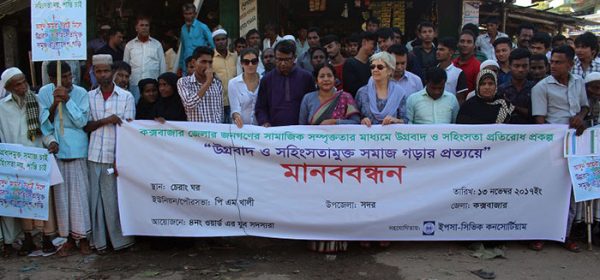 Following the human chain the team has visited an open-air folk song event at Bangla Bazar. The lyrics of those folk songs are the messages to create awareness and mobilize community people against violent extremism. Audience of the folk song are the grass root community people and it is an effective campaign through cultural activity.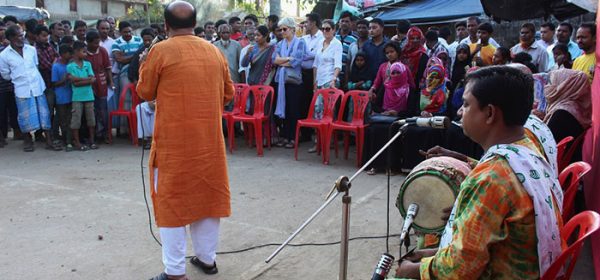 Finally she has visited a debate competition of school students which was held at the Mohammad Elias Mia High School.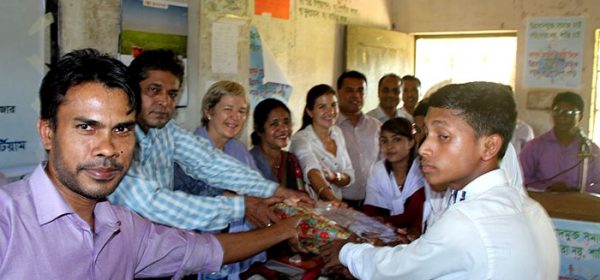 Mr. Arifur Rahman, Chief Executive, YPSA; Mohammad Shahjahan Deputy Director and Focal Person YPSA CEVEC Project; Ms. Khaleda Begum, Team Leader; Mohammad Shahidul Islam, Program Coordinator –Campaign & Partnership and Rajat Barua Riku, Program Coordinator YPSA CEVEC Project were present during the visit.