As a purpose of Annual Partnership Review Meeting, Orla Murphy, Country Director, Plan International, Bangladesh has visited YPSA Head Office, Chittagong on 15 January, 2018. YPSA warmly welcomed to the Country Director and her team member. At first she visits the information center of YPSA. The information Centre is the archived of YPSA's recognition and records of different outstanding performance.
The Country Director highly appreciated YPSA after visiting the information center. She said it is innovative and ingenious idea. Then the Plan International, Bangladesh team has attended a review meeting with YPSA's senior staffs.
At the beginning of meeting Md. Arifur Rahman, Chief Executive, YPSA has given a welcome speech and special thanks to the Country Director of Plan International, Bangladesh for visiting the YPSA. An introductory session was held among the participants of this review meeting.  Afterwards, a multimedia presentation of YPSA and its temporary development was presented.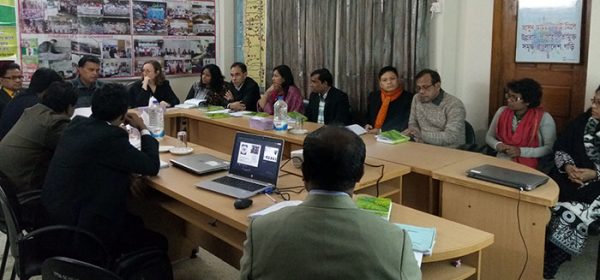 At review meeting, Plan International, Bangladesh team were emphasized on how do strengthening the relationship between YPSA and Plan International. YPSA senior staffs were seeking the collaboration and support from Plan on scaling the knowledge and capacity development of organization. Chief Executive, YPSA said that development arena is always changing so capacity and knowledge should upgrading and scaling for surviving. In that regards Plan International could play an important role on capacity development of YPSA.  On the other hand Orla Murphy, Country Director, Plan International, Bangladesh has said YPSA has vast knowledge and experience on youth development. So Plan International will take the lesson from YPSA as well as in future Plan can develop a join program on Youth Development.
Put an end, a question and answer session was held, where YPSA senior staffs were asking several questions to Plan team. The Plan International has given the answer on following questions. At concluding session Md. Mahabubur Rahman, Director (Social Development), YPSA said that YPSA always feels honor and dignity as an implementing partner of Plan International. He has given a special thanks to the Plan International Team for visit YPSA and wishes for long term partnership with Plan International.