Press Institute of Bangladesh (PIB), a government institution, arranged a three-day basic training on journalism, in association with Sitakunda Press Club on 18-20 April at the Human Resource Development Center of YPSA in Sitakund. 40 journalists from Sitakund and Mirsarai Upazila participated in the training program. Md. Arifur Rahman, Chief Executive of YPSA was present as chief guest at the closing ceremony and certificates distribution program.
"Journalism is not something based on faith.  Journalism requires proper investigation, accuracy of information and accountability. A journalist must consider those things before publishing any news. There are many obstacles for the rural journalists. However, they have to do journalism keeping in mind the principles and ethics of journalism as much as possible." Speakers said in the closing program.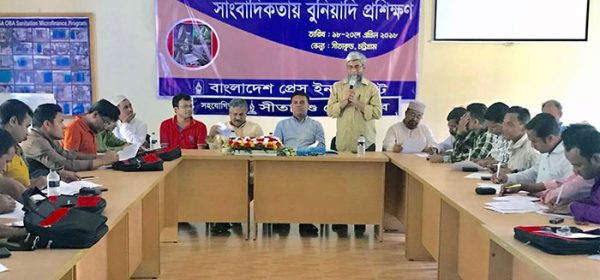 Sitakunda Press Club President M. Secandar Hossain presided over the closing ceremony while General Secretary of Sitakunda Press Club Soumitra Chakraborty moderated the program.
Ekushey Television's Planning Editor Saiful Islam Dilal, Senior Editor of BanglaVision Television Ruhul Amin Rushd; PIB Workshop Coordinator Jilhaj Uddin Nipun; Former President and Executive Member of Sitakunda Press Club Mahmudul Haque spoke on the occasion.
The first day of training was inaugurated by Anwara Begum, Director of Studies and Training, Bangladesh Press Institute (PIB). Sitakunda Upazila Chairman SM Al Mamun was present as the chief guest. Upazila Nirbahi Officer Nazmul Islam Bhuiyan spoke as special guest.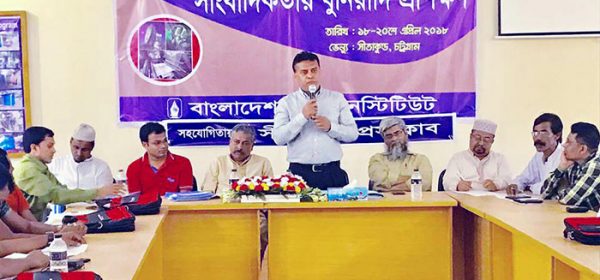 Assistant Professor of Public Relations and Journalism Department, Chittagong University Ali Raji discussed the definition, characteristics and benefits of journalism and the value of the journalism.
On the second day, the PIB Workshop Coordinator Zilhaj Uddin Nipun discusses the type and variation of journalism.  In the afternoon session, Daily Bangladesh Khabar Chittagong Bureau Chief Farooq Iqbal discussed techniques of investigative reporting. Daily News Bureau Chief Nirupam Das Gupta was present at the time.