Recognizing the virtuous people of Sitakund who have contributed in various fields in the society and the country, a reception and posthumous award ceremony was arranged by the weekly Chatgar Bani, on 12 May 2018 at the Bangabandhu conference hall of World Trade Center in Agrabad, Chittagong. The City Mayor of Chittagong AJM Nasir Uddin was the chief guest while convener of the reception committee, former principal of Comilla Cadet College, Hasnat Harun presided over the program.

Master Abul Kashem , Director of Midland Bank; AMM Dilshad, Member of Chittagong District Council; Mohammad Yusup Ali, General Secretary, Bangladesh Chamber of Commerce and Industrie in Hong Kong were the special guests. Mohammad Yusuf, Editor-in-chief of Weekly Chatgar Bani moderated the program.
On the occasion of 17th anniversary of weekly Chatgar Bani, a news paper published from Chittagong, 27 people (dead and alive) are given the title "Chatgar Bani Podok" for their contribution in various fields including politics, economy, sports, education, journalism and social development.
Chief Executive of YPSA Md. Arifur Rahman has been honored for his contribution to social development and YPSA General Member Ms.Shamsun Nahar Chowdhury Lopa has been honored for her Doctor of Philosophy (PhD) degree from University of Chittagong .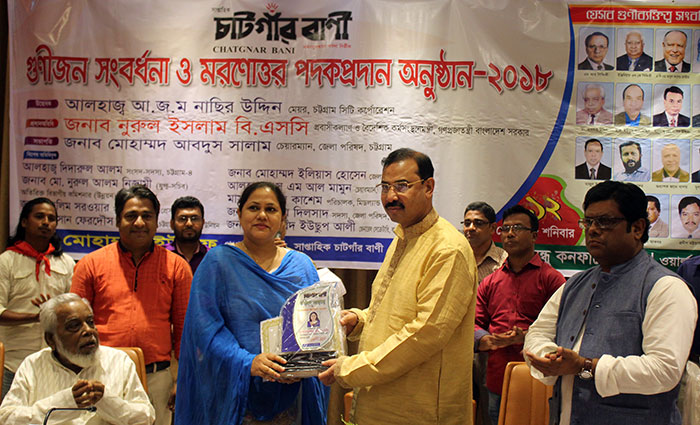 Among others, Late MR Siddiqi, first Commerce Minister of the country; Late Engineer LK Siddiqui, former minister and deputy speaker; Late ABM Abul Kasem Master, former MP and Panel Speaker, Shohid Prof. Harun al-Rashid; Late Abdullah Hil Mamun (Mamun Master), former president of the Sitakund Awami League and former headmaster of the Sitakund Maszidda High School; Late Ziaul Islam Chowdhury (Suruj Mia), Educationist Late Nurul Alam, Dr.Ekhlas Uddin; Veteran Physician and Politician, Educationist Nazir Ahmed, Inginear Yousuf Salauddin; Freedom Fighter, Chairman of the Pacific Jeans Group; Alhaj Nasir Uddin, Shorawardi Chowdhury; Adviser of Federal Insurance Company Limited, Fazlul Quader; Deputy Managing Director of PKSF; Faruq Mainuddin, MD of Trust Bank, Khorshed Alam; Educationist, Mrinal Kanti Bhattacharia; Famous Singer, Gias Uddin; President of Sitakund Somiti Chittagong, Tajul Islam; DMD of Janata Bank, Professor Jan e Alam, Prodip Bhattacharia; Famous Sportsmen, Mamun Abdullah; Chief Editor, Independent Television; Hasan Akbar; Chief Reporter of Daily Azadi and Ms. Suraiya Baker, woman leader, Milton Rahman; Writer and Journalist based in London, Raisul Uddin Saikat; Young industrialist, were given the recognition 2018 .