YPSA arranged an awareness session on "Diabetes – Control, Discipline, Diet & Drug" at Age Friendly Space (AFS-2), Ukhiya, Cox's Bazar.  The program was arranged under the project "Improved access to the life saving and life- improving integrated humanitarian services for older men and women and their families amongst the Forcibly Displaced Myanmar National" which is supported by HelpAge International, Bangladesh.
170 older diabetes patients (man and women) attended the program.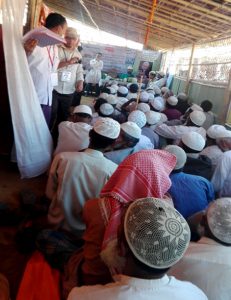 Mr. Bimal Das, PO of HelpAge International gives opening speech and discuss HelpAge International activities around the world including Bangladesh and in the camp.
Project Coordinator of YPSA-HAIBD emergency project Shamser Uddin Mostafa discuss project activities and AFS facilities, preparation for upcoming monsoon period and future plan.
Medical officer Dr. Md. Eaqub discusses basic information of diabetes, drug, discipline and ways of controlling diabetes.
Medical officer of Center For Zakat Management (CZM) Dr. Afroz discuss the effect of irregular drug use, female diabetes during pregnancy and regular exercise to control diabetes.
Mr Kaisar Osman, Paramedic discuss diet and discipline for diabetes from his own practical experience as he has been suffering from diabetes.
After discussion, attendees were entertained with diabetes friendly food and provided diabetes medicine.
Some patients shared their experience of getting facilities from AFS. They are very much happy to attend this session and they realized that learning from this session would be very helpful for them. They requested organizers to arrange such event repeatedly.