YPSA organised a workshop for media professional/journalist on Human Trafficking Act and preventing Trafficking in Persons (TIP) at the Mushroom Center, Cox's Bazar on 26th August, 2018. The workshop is a part of the project titled "Initiatives to Prevent Human Trafficking in Emergency Response" supported by International Organization for Migration (IOM) and implemented by YPSA. 
IOM counter trafficking specialist Emmy Nurmila Sjarijono and National Protection Officer Mykal Mondol were present while Deputy Director of YPSA Khaleda Begum presided over the workshop and anchored by Jishu Barua.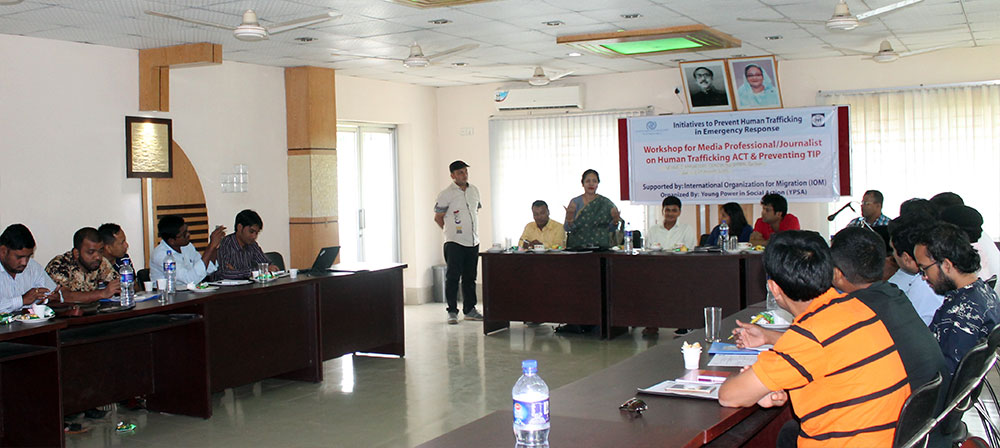 The objectives of the workshop were to orient media professional/journalist on the "Prevention and Suppression of Human Trafficking Act 2012" and existing legal framework and policy of anti-trafficking in Bangladesh and to combat human trafficking through professional endeavours. Journalists from 20 printing and electronic media participated in the workshop.
National Protection Officer (Counter Trafficking), IOM facilitated different sessions. Among other, Shariful Hoque, Assistant Judge, District & Session Judge Court, Sylhet discussed the Human Trafficking Act 2012 in depth. The workshop ended with an open discussion session in which all the participants and facilitators actively took part