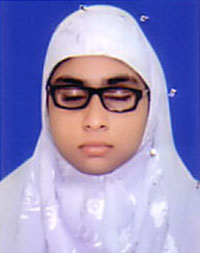 Name – Anika Tahsin
Father – Mahmud Yusuf Chowdhury,
Mother – Sakhara Begum
Village – North Madarsa
Sub-District – Hathazari
District – Chittagong
During birth Anika Tahsin suffered from retinal detachment and become visually impaired. Anika's family is consists of his father, mother, three sisters and one brother. Her father works abroad and mother is a housewife. Anikas educational journey started at Chittagong Mohammodia Government Primary School. Later, she passed the sixth to the eighth grade Muradpur government blind school. Recently she appeared in SSC examination from Rahmania High School.