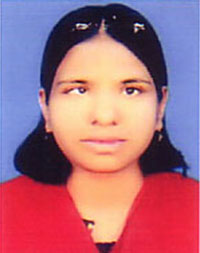 Name: Rashmin Akhtar
Father- Abu Taher
Mother- Khadija Begum
Village- South Central Halishahar, 38 Ward, Wasim Chowdhury's house,
Police Station-Bandar,
District – Chittagong
Since birth, Rashmin is a victim of visual impairment. Among her siblings, she is 3rd in rank. Her father is a service holder and mother is a housewife. Her schooling started at the Muradpur government blind school. She passed SSC examination from Rahmania High School in 2012 and from Chittagong Government City College passed HSC examination in 2016. Due to disability, she faced several obstacles but eventually overcome all those obstacles with the help of ICT and audio books. At present, she is studying Degree pass course (2nd year) at Chittagong City College. Her dream is to become a government employee.