YPSA is implementing the project "Developing a project for Community-driven Planned Relocation of Highly Vulnerable Climate Displaced Households in South-Eastern Coast of Bangladesh" at Kutubdia, Pekua and Banskhali Upazila with the support of the Climate Justice Resilience Fund (CJRF). During the implementation of the project, YPSA selected 18 women for tailoring training, 35 families for providing roofing sheets (tins) and 20 families for latrine support in these Upazilas.
Upazila Nirbahi Officer of Banskhali Ms. Momena Akter was present as chief guest during the inaugurated program of the distribution at the Upazila Parishad complex. Upazila Rehena Akter Kajmi and Upazila Education officer Saifur Rahman was present as special guest in the program. Prabal Barua, Program Coordinator of YPSA presided the program and journalist Kallyan Barua moderated the launching program of the distribution of sewing machine, roofing sheets (tins)  and latrine equipment to selected climate displaced people.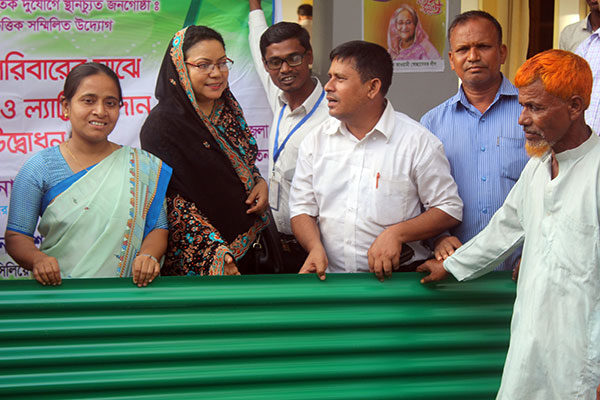 Ms. Momena Akter, Upazila Nirbahi Officer of Banskhali said that Banskhali is the hotspot of climate change induced natural disasters in the country and people are displacing here due to cyclone, flood and river erosion. We are committed to rehabilitate the landless and homeless people for their custainable life. YPSA is working nicely for livelihood and rehabilitation process of climate displaced people which need to implement large area of the Banskhali and other upazilas.