A total of 50 male and female volunteers of West Sholoshohor formed a community service group for disaster risk management under YPSA-Proyash-2 project.  The group received training on fire and civil defense on 1-3 May 2019. The Urban Community Volunteer group worked in 7 no. Ward which amazed the entire Chattogram City Corporation. During heavy rain, people were rescued from hilly areas. They planted trees, organized clean campaign, dengue prevention campaign in 27 schools, colleges and madrashas for creating awareness. The team worked in response to three fire incidents. The group worked for two days in cleaning wastes formed from improper disposal of cow skins during Eid-Ul-Azha.
Considering their outstanding performance, on 16 November, YPSA handed over 29 types of safety/disaster rescue equipment and tools to the Ward Disaster Management Committee (WDMC) for improving their work efficiency.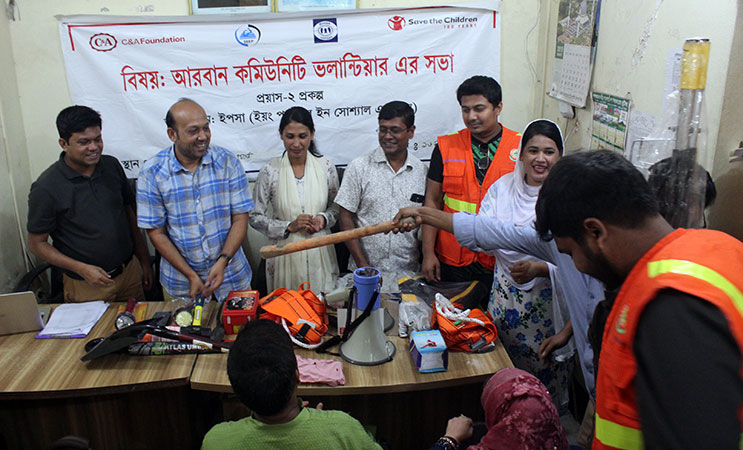 Mubarak Ali, 7th Ward counselor, 7th Ward secretary Muhammad Tofail Ahmed, Mustafizur Rahman Kausar, Mintu Kumar Dey. YPSA Project Coordinator Mr. Shawkat Osman, Monitoring & Evaluation officer Sanzida Akhter, Project Officer Mr. Ataul Hakim, Field Officer Osman Goni and members of WDMC committee were present at the event.
The chief guest said, "We have worked in many projects without the necessary equipment. However, now we are equipped well enough. If we do not know how to use such equipment and tools then we can give orientation through Fire Services and Civil Defense".
"The 7no. Ward Committee Volunteers showed capability to play a crucial role in helping to reduce risks of any kind. Therefore we cordially thank YPSA and Save the Children for their supportive services.  Without community service, we would not have a strong quality of life. It's important to the person who serves as well as receives. It's the way in which we ourselves grow and develop." He added.