YPSA-CEVEC consortium (YPSA, NONGOR & Help Cox's Bazar) under 'Community Engagement in Countering Violent Extremism in Chattogram Division (CEVEC)' project, supported by GCERF has taken initiative to distribute food, Hygiene materials in different areas of Cox's Bazar and Sitakund among the people who are vulnerable to COVID 19 Pandemic and VE issues.
In its consistency disinfecting water spray activities are continuing at various locations in Cox'sBazar district & Sitakunda in Chattogram District.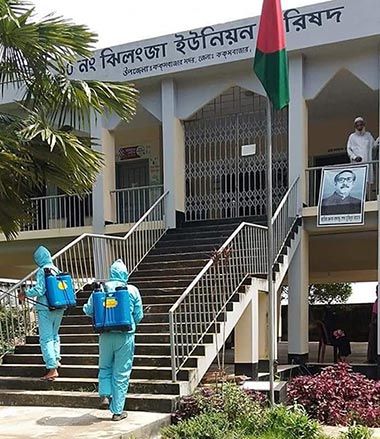 According to direction & planning of Ms. Khaleda Begum –  Deputy Director, YPSA & Team Leader, YPSA CEVEC Consortium the whole activities are implementing by consortium partner YPSA, NONGOR & Help Cox's Bazar.
Disinfectant water has been sprayed at Jhilongja Union Parishod office, Bangla Bazar area, Link Road area, Cox'sBazar Govt. College, Janarghona area, Cox'sBazar Medical College & it's adjacent area, Jhilongja Hazi Para Rahmania EtimKhana & Madrasa area, Cox'sBazar Sea food factory, Cox'sBazar Polli Bidyut Samity office, Chander para Jame Mosque, Chander para area, Cox'sBazar Sadar Upazilla Office, Cox'sBazar UNO office, all Govt. office in Cox'sBazar Sadar Upazilla, Cox'sBazar Upazilla Parishod Bazar area, Cox'sBazar bus terminal area, Link road bus stand & bus counters, Jhilongja Rubber Dam station area in Cox'sBazar Sadar Upazilla. Local youth organization 'Kishor Kollyan Society' implement this activities with the support by YPSA.
In Moheshkhali Upazilla disinfectant water has been sprayed at Gorokghata Bazar Upazilla Parishod, Moheshkhali Thana, Moheshkhali Upazilla Health Complex, Dak Banglo Bazar, Kutubjum Union Parishod, Kabir Bazar & Khondokarpara Bazar.
Disinfectant water has also been sprayed in Chakaria at Chakaria Bus Station, City Market Chakaria Municipality, Chakaria Thana Rastar Matha, 2 & 3 no. Ward under Chakaria Municipality.