During an auspicious ceremony at the YPSA Head Office conference room on June 5, 2021. YPSA-IRCD team leader Mr Vashkar Bhattacharjee handed over the 2021 WSIS Championship Certificate to YPSA Chief Executive Md. Arifur Rahman. The meeting was organized by following the WHO and Bangladesh governments regulations on social distancing and safety measures for COVID 19 pandemic.
"We are proud to be a part of YPSA's WSIS award-winning initiative and thank our chief executive for his continuous motivation and guidance during the implementation of the initiative. We have continuously publicized all the events of this initiative as well as circulated awareness materials via different online and offline media, which definitely improved peoples understanding regarding the objectives and importance of this initiative. We even received 2 more grants that are replicating and hopefully scale up the impact of the initiative", said Mr Vashkar Bhattacharjee.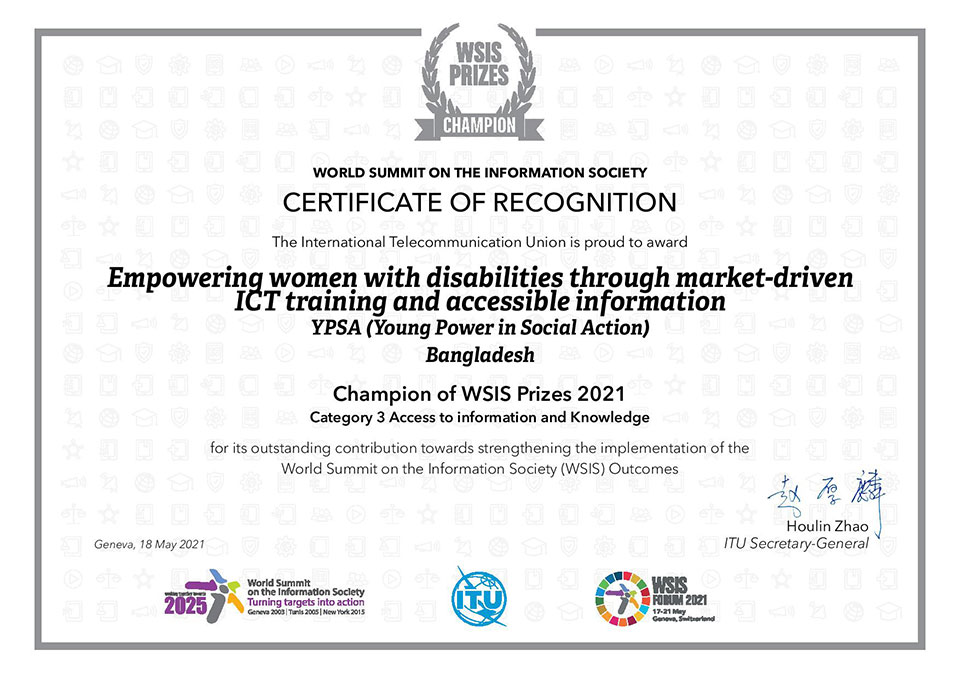 In his address, YPSA chief executive Md Arifur Rahman thanked the disability inclusion team of YPSA for continuously bringing innovations for improving the condition of persons with disabilities in Bangladesh. He also added that since its establishment, YPSA has considered Disability Inclusive development as its core agenda which started from the local level and spread to the national and international arena. He also recollected and shared his memories of YPSA's winning of the UN Youth Peace Prize, e-NGO Challenge, Zero Project, UNESCO Award, etc.
During the WSIS Forum 2021 (17 – 21 May), YPSA has been formally announced as the champion of the WSIS Prize under category number 3 (Access to information and knowledge) for its Empowering women with disabilities through market-driven ICT training and accessible information on SRHR initiative. The goal of this initiative, which was a collaboration between YPSA and the EMK Center, Dhaka was to empower women with disabilities by providing them with specific result-focused, market-driven ICT training along with facilitation for job placement, and also adequate accessible informative materials on sexual and reproductive health right (SRHR). Thus preparing them for a satisfactory personal and professional life.
Among others from YPSA, Director (Finance) Palash Chowdhury; Director (Economic Development) Murshed Chowdhury; Deputy Director Mohammed Shahjahan; Deputy Director Nasim Banu; Assistant Director Shahidul Islam, Project Coordinator Mohammad Ali Shahin; YPSA Youth Focal Abdus Sabur participated in the ceremony.