Inspired by Save the Children and YPSA's initiative to train Urban Community Volunteers (UCV) in Ward 7, 8, and 19 no ward, therefore, UCVs proactive participation in community welfare and emergency response, Chattogram City Corporation has initiated to form group of Urban Community Volunteers in 41 wards of Chattogram.
These volunteers will work as a first responder during any emergency, aid distribution, awareness for social behavior change during lockdown, and awareness for dengue and chikungunya prevention. Already 2 UCV team leaders for each ward has chosen.
On 29th July, 2020, City Mayor Rezaul Karim Chawdhury has arranged a meeting with Urban Community Volunteers at Chattogram City Corporation. Deputy Secretary of City Mayor, Mohammad Abul Hashem moderated the event. In the meeting president of waste management, Md. Mobarak Ali, 15 no Ward Councilor and Convener of UCV coordination team, Mohammad Giyas Uddin, 32 no Ward Councilor Babu Johor Lal Hazari, 19 no Ward Councilor, Md. Nurul Alam. In addition, two elected team leaders of UCV from each ward were also present in the meeting.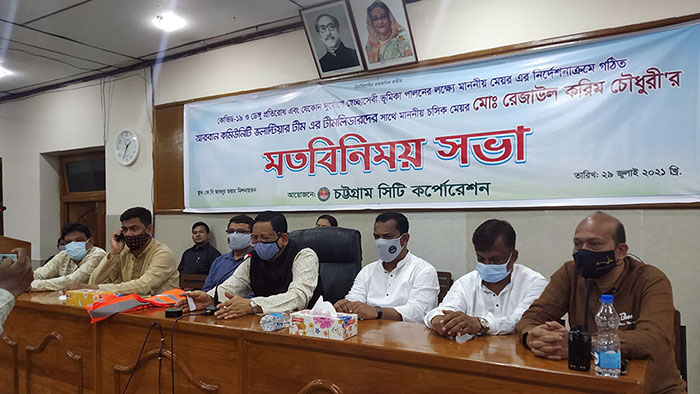 Ward 7 Councilor and president of waste management, Md. Mobarak Ali mentioned the objective of UCV formation in the opening speech. Next Monitoring and Evaluation Officer of Proyash II, YPSA presented trained UCVs' activities during fire incident, COVID-19 awareness and people rescue during landslide under Proyash II project.
Chief Guest, City Mayor Rezaul Karim Chawdhury said, "Volunteers are often working for community welfare and we need to coordinate these volunteers. Our initiative to form UCVs in 41 wards is first step to execute Prime Minister Sheikh Hasina's call for forming nationwide 62000 Urban Community Volunteers. Soon We will arrange Mayor Award to inspire all the volunteers in the city."
At the end volunteer uniform, ID card and hygiene kits were distributed among the UCVs.