Mr. Onno Van Manen, Country Director of Save the Children, visited YPSA head Office and Proyash-II Project Model Waste Management Initiative implemented in Nabinagar area of 7 no West Sholashahar Ward. On November 29, 2021, after a brief meeting with YPSA's higher management and Prayash-II project officials at YPSA's head office, he went to look over the progress of the pilot project of Model Waste Management Initiative, a joint intervention of Chattogram City Corporation (CCC), Save the Children and YPSA at Nabinagar initiated under Proyash-II Project for ensuring sustainable waste management in the port city.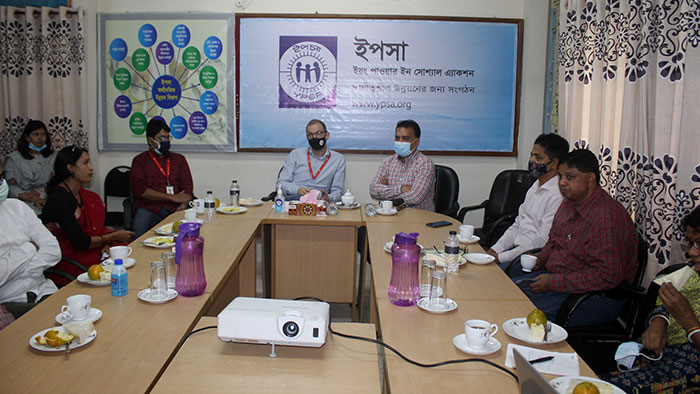 Mr. Onno Van Manen was accompanied by Mr. Arifur Rahman, Chief executive of YPSA, Ms. Nasim Banu, Deputy Director (Social Development), YPSA, Mr. Simon Rahman, Manager (Urban Resilience), Save the Children, Mr. Obidul Islam, Senior Program Officer, Save the Children, Ms. Sanjida Akter. Project Coordinator, Prayash-II project in his field visit.
During the visit, Save the Children Bangladesh Country Director Mr. Onno Van Manen expressed his views that although several initiatives have been taken for improving the waste management of cities like Chattogram by various government and non-government organizations, there are still many limitations as well as challenges in the waste management system of Chattogram. As a result, it remains a potential risk factor for city dwellers, especially for children.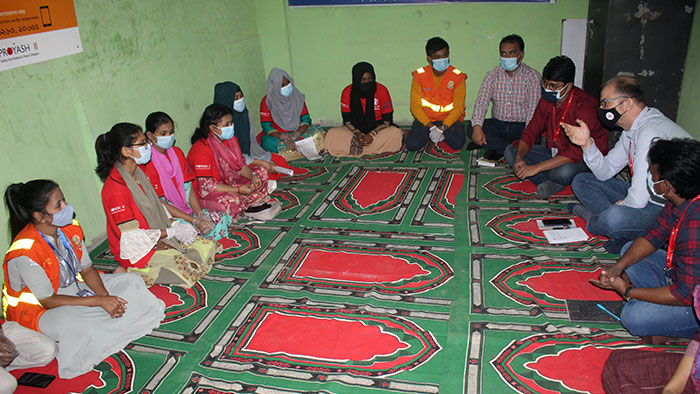 He thanked YPSA for taking action on such an issue and stated that, if the pilot project of transforming a small community into a model for waste management comprising of various programs for improved waste management system succeeds, it would be a breakthrough as it will open opportunities for others to replicate the initiative.
In addition to inspecting the Model waste management initiative, Mr. Onno Van Manen also held an exchange of views with YPSA Prayash-II project's Child and Youth Group, Child Journalist Group, and Urban Community Volunteer team as well as Mr. Mobarak Ali, Councilor of 7 no west sholoshohor ward and chairman of the standing committee for waste management of Chattogram City Corporation. He also visited the Shitaljharna bridge built at Roufabad, Chattogram under Prayash-II project.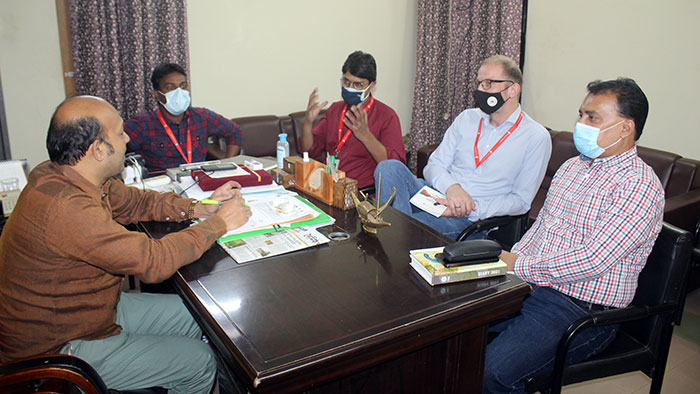 Earlier in the morning, a brief meeting was organized for the head office to share about various programs implemented and facilitated by YPSA as well as an overview of Proyash-II Project with the Country Director of Save the Children. Mr. Abdus Sabur, Program Manager and Youth Focal of YPSA facilitated the presentation on various interventions of YPSA and Nasim Banu, Deputy Director of YPSA made a presentation on the overview of Prayash-II project.
Mr. Onno Van Manen emphasized focusing on Children with each project or activity and stated that `We have to understand that child safeguarding issues are all around us, but many of them remain undisclosed. We have to look out for the flow of reporting as it proves our accountably towards our standards.'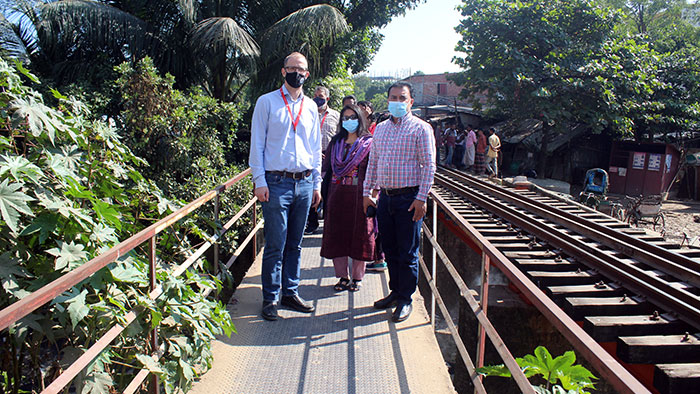 Mr. Arifur Rahman, Chief Executive of YPSA provided a brief background and plan of YPSA stating that YPSA wants to become a resource organization for the Chattogram division. He added that `We are very focused on developing our organizational capacity, especially how we can respond to such issues like safeguarding, natural disaster, climate change, displacement, child labor, urban issues. Many new challenges are coming up and we are taking actions for addressing them.'
Mr. Palash Chowdhury, Director (Finance), Mr. Morshed Chowdhury, Director (Economic Development), Mr. Vhaskar Bhattacharya, Program Manager, Mohammad Ali Shahin, Program Manager, and other officials of YPSA also attended the meeting.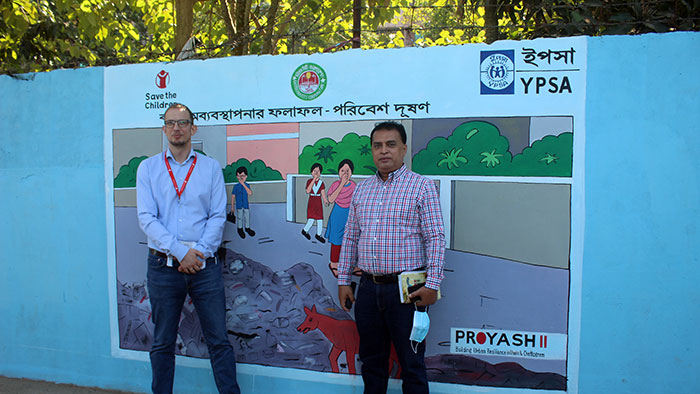 Mentionable that, to ensure sustainable waste management system in Chattogram, YPSA and Save the Children initiated the model waste management pilot project in collaboration with Mubarak Ali, Ward Councilor, 7 no west Sholoshohor Ward. The activities of the project include formation and management of waste management team with the help of local people of Nabinagar area, conducting regular cleaning activities, installation of covered waste bins in front of 80 houses in Nabinagar area, creating a productive sector from waste before dumping, installing slabs on the open drains in Nabinagar area, installation of fire extinguishers in the area to deal with accidental fires, installation of awareness message boards and making some colorful wall painting on waste management and Covid19.
Save the Children and YPSA held a meeting with Chattogram City Corporation Mayor Mr. M Rezaul Karim Chowdhury on the initiative in September 2021. CCC Mayor Mr. M Rezaul Karim Chowdhury has promised to take initiative for the development of waste management in Chittagong City Corporation after identifying the successes and limitations of this pilot project. Most of the interventions of the pilot project have already been completed.