A week long campaign was initiated by UCVs in Chattogram while the hike of Coronavirus in 2022. The Campaign lasts from 25-31st of January in four Wards of Chattogram, Ward 4, 7, 8 and 19. Objectives of the campaign are: discussion with the shop owners about ways of Coronavirus prevention and keep necessary masks available for the customers, draw circles in front of shops to help public maintain social distance, monitor public spaces like Biplob Uddyan in Ward 8 and Bibirhat Cow hut in Ward 7 twice a day to ensure  everybody's masks on and keep social distance, place PVC awareness boards in front of Biplob Uddyan and Bibirhat Cow hut, and discuss with public about this.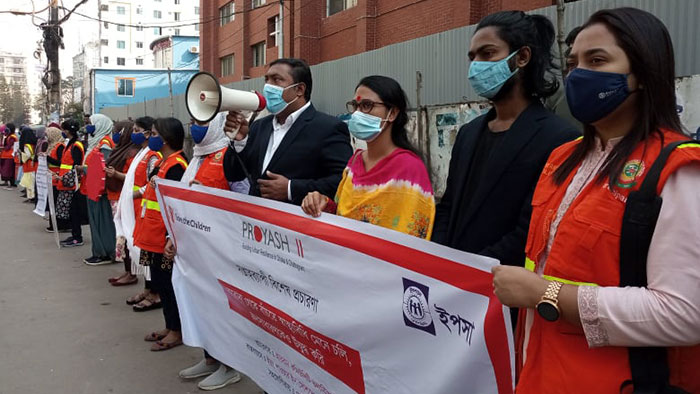 The inauguration of the campaign held in 4, 7, 8 ,and 19, in total 4 Wards of CCC respectively on 30th in Chandgao R/A, on 26th in 7 no Ward Office, on 30th in Biplob Uddyan and on 27th Charchaktai High School. Also the campaign was rounded to Pora Colony of Ward 19, Bibirhat, Amin colony and Nabinogor of Ward 7, Biplobi Uddyan and Tulatuli of Ward 8.
During the campaign a Maskot and UCVs delivered awareness leaflet and aware people verbally for using masks and take vaccination. In Biplobi Uddan and Bibirhat UCVs successfully monitored and were able to maintain masks on all passerby and buyer and sellers for the week.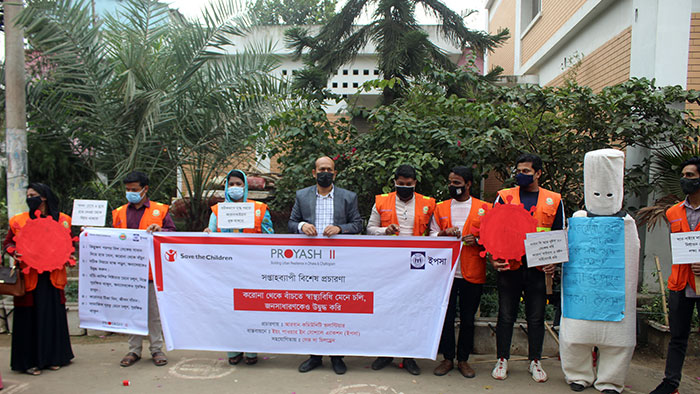 Councilors specially asks public to follow the rules and regulations provided by the Government. As now the spread of Coronoviruas is at peak, everyone need to follow the rules strictly before the nation collapse. To success the campaign Councilors asks cooperation from the shop owners and other businessmen to encourage public in taking vaccination and not allow customers to restaurant without vaccine card.