YPSA CEVEC consortium organized 'Yearly Review Meeting' at Banquet Hall, Executive Meeting Room, Hotel Grand Mostafa, Sylhet on the 11 May 2022. The Chief Executive of YPSA and YPSA CEVEC Consortium Chair Mr. Md Arifur Rahman, Executive Director of NONGOR Mr. Didarul Alam Rashed, Executive Director of HELP Cox's Bazar Mr. Abul Kashem and all YPSA CEVEC Project staffs were present at the program. The program was moderated by Mr. Nazmul Barat Rony, Program Coordinator, Training and Campaign of YPSA CEVEC Consortium.
At the start of Yearly Review meeting, the Team Leader of YPSA CEVEC Consortium Ms. Khaleda Begum briefed about the agenda of the program and the types of activities are going to happen at the program. She also described about the Objectives of the Yearly Review Meeting. In her speech she emphasized on the programmatic and financial sustainability to way forward with the project activities.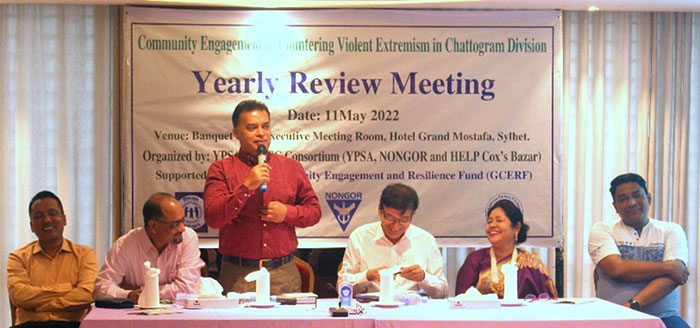 At the welcome speech the Chief Executive of YPSA and Chair of YPSA CEVEC Consortium Mr. Arifur Rahman thanked all the staff for participating at the meeting. In his speech he said that, 'the aim of the retreat is to look back to the project activities to way forward with the activities for sustainability. There's a lot of things to learn from every project so that everyone could be benefited. During, 2013-14, the idea came up about PVE related project in the context of the VE incidents in Ramu, Bangladesh. We can say that it is a successful project and we are going to end the project successfully. During the implementation time of YPSA CEVEC project no incident like happened in Ramu took place or happened in the project area. We will look back to our activities and share with the donor for the next phase. He requested to come up to share the thoughts, feedbacks and learning of the project throughout the day and presentations.
During the speech of NONGOR Executive Director Mr. Didarul Alam Rashed thanked all the staff for their effort to implement the project activities. He said that, "through implementing such a big project we have been learning from each other's and it help us to boost our knowledge and working capacity. I hope for a fruitful day and going to be a successful program".
The Executive Director of HELP Cox's Bazar thanked to all in his speech. He said that, "I would like to give a big thanks to all the staff for their contribution for the project's success. It is a personal choice what to prioritize the salary or the work. People who could sustain, they could succeed. No learning is fruitful if such learning could not be useful. We need to work with love and professionalism. We need to represent our country in a positive way. I hope that our journey in last 6 years through this project is going to end successfully.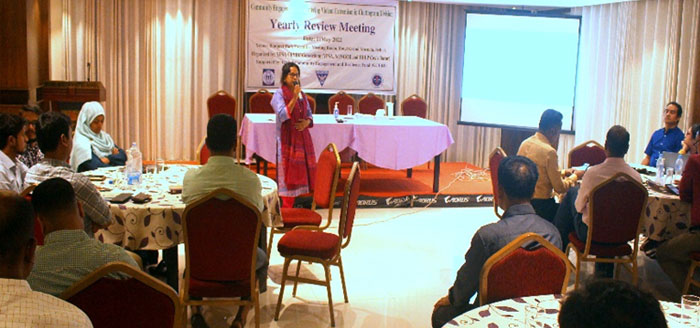 After the welcome speech the Project Manager of Sub-recipients presented their PowerPoint presentation on Project Outcomes, Outputs, Challenges, lesson Learned, Case Story. From the presentation it is found that the activities of Japan and AUS funds are highly appreciated by the community people as the activities are focus on livelihood support and they are directly benefitted by the activities.
After the SRs presentation Mr. Mohammad Shahjahan the Focal Point of YPSA CEVEC Consortium facilitate the session of 'Look Back to last 3 Years'. In his session he discussed about 'what is lesion learning and why it is important, lesion learning process (Identify, document, analyze, store, retrieve). He also involve the participants with a group work on 'Major Success in last three year and why these are successful, Major failure in last three years and why these are failure, Missed Opportunities, Challenges and Mitigation Process.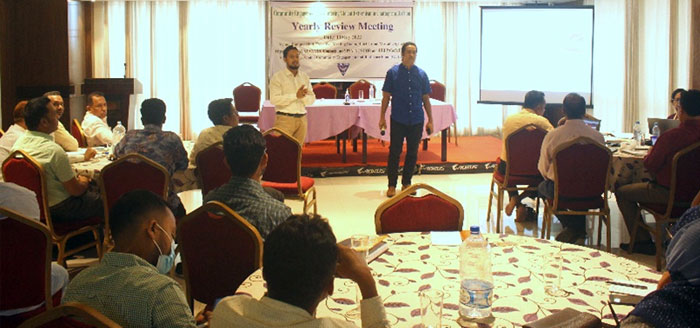 At a session Mr. Nazmul Barat Rony, Program Coordinator, training and campaign, discussed about 'Way Forward and Program & Financial Sustainability. He also involve the participants at a group work on 'Target population are need to include who are work for PVE beyond the project period, Target activities beyond the project period, Types of support needed.
After that Ms. Roksana Begum, Assistant Director – Finance discussed about Finance and Compliance issues. In her session she mentioned that, 'after successful completion of Round-1 we steps at Round-2. In round 1 we have introduced our accounts officer tally software and software posting. We are doing the continuation in this round. In the last financial examination we got some feedback which is prove our limitations. We had to emphasize our staff for skill development. I would like to all accountants for a fine report so that we can present to the donor.
The Focal Person of YPSA SR-1 Mr. Mohammad Shahidull Islam discussed about the back ground of Round -1 of the CEVEC Project. He said that, "I have learned a lot from this project. For example, we learned a lot while preparing the flipcharts. We got a lot of projects as byproducts of CEVEC. We have grown our capacity through budget monitoring, programmatic monitoring, budget assessment, program assessment etc. We have used a lot of component of the CEVEC project in other different projects as well. We have grown a good relation with administration and we have good working relation base in every ward of Cox's Bazar district for this project."
Closing session conducted by Team Leader she invited the participants to share their experiences and learning of the Yearly Review Meeting 3 of the participants shared their experience, learnings and feelings which was very encouraging for others. Chief Guest Mr. Arifur Rahman Chief Executive of YPSA & Chair of the Consortium closed the program by his valuable closing speech and ended the program with mutual thanks.