Sarah Sabry, Global Lead-Urban and Stephanie Nicol, Program Officer of Save the Children visited YPSA from 23rd-24th January. During the visit, she explored different impact level activities YPSA has done under Proyash II, Building Urban Resilience in Dhaka & Chattogram project.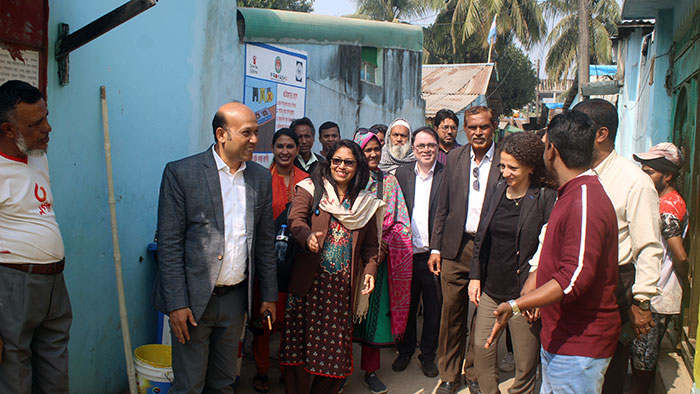 On 23rd January at YPSA Head Office they were welcomed by Proyash Chattogram team. Nasim Banu, Director, Social Development, YPSA and Focal of Proyash II facilitated the introductory session with them. During the meeting Fahmida Noor, Documentation Officer of YPSA presented a brief on YPSA following with progress and achievement of Proyash II project.
Next they went to visit Nabinogor Model Waste Management Initiative and had a small meeting with women, children and youth, and Nabinogor Unnoyon Committee members. They visited the whole area and impressed with evidence based improved of waste management effort by community. End of the day they sat with Urban Community Volunteers (UCV) and exchanged views about youth participation on urban DRR. UCV shared their major activities and achievement. They also mentioned about necessity of advanced training that can be useful for them for advanced rescue situation.
On 24th January, second day of the visit The global urban lead team of Save the Children met with two networks initiated under Proyash II project, Chattogram Urban Network (CUN) and Bangladesh Alliance of Youth (BAY). As a convener of CUN, Nasim Banu, Director, Social Development, YPSA shared the progress and achievement of CUN.  In next session Syed Mohon Uddin, Monitoring and Evaluation Officer and Convener of BAY presented progress and major activities of BAY. At the end of the Chattogram tour they visited the 100 years heritage CRB and urban garden in Poly technical road.
During the visit Sarah Sabry, Global Lead-Urban has shared few innovative ideas with beneficiaries and networks for advocacy to build cities for children that can be visible to impact level through social media.