Chemical depots in Chattogram, have witnessed several incidents of fire, blast, and explosion over the years. These incidents have resulted in loss of life, injuries, and damage to property. The frequency of such incidents has raised concerns about the safety measures being implemented in the depots, as well as the risk posed to the surrounding communities. To address these concerns, on 8th May, 2023, a round table meeting was organized by Chattogram Urban Network and Dainik Purbokone to discuss the Fire safety in Chattogram City corporation area including the existing depots and identify ways to mitigate the risks associated with these incidents.
City Mayor M. Rezaul Karim Chowdhury were present as chief guest while Dr. Masud Rana, Asisstant Professor, Chattogram Medical College moderated the meeting .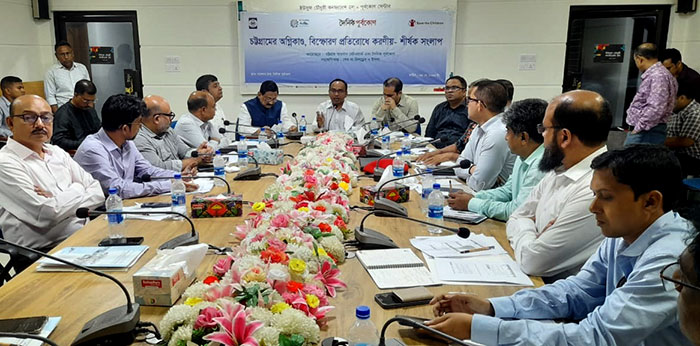 The Mayor said, "Chattogram is centered for industrialization but sadly we are unable to ensure our safety security. We need to implement our measurements and knowledge, through such dialogue to ensure safety measurements. Awareness, and law enforcement is must for action-oriented planning and implementing." Rakib Hasan, ADC(G) & ADM says "we are at high risk of fire incident due to lack of right technical person recruitment and knowledge. Private and residential actors should come forward besides government for collective effort and create sensitization."
ADC says, we are in right track when we see government take establish 100 industrialists area. But our residential areas are at high risk.  We do not know the mantaineance of the mashine we bought, we also do not hire the technichal person.  CDA and CCC represntativs . we need consultative efforts for safety and security. Private sector, residential actors should come forward collectively besides government bacuse, for gov, its tough to establish water hydrant. Beneficiaries should come forward for collective effort. Sensitization is important for water reservoir. Besides industry and depot safety we need to aware and work for community risk mitigation as well.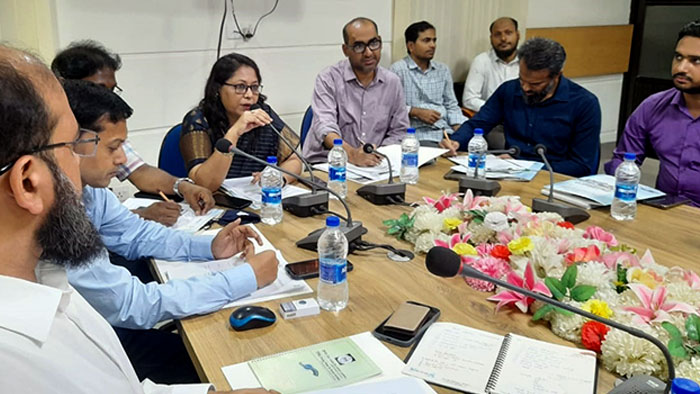 Ms. Nasim Banu, Director (Social Development), YPSA gave welcome speech and mentioned about the objective and activities of Chattogram Urban Network. She also shared the importance of organizing such dialogue thinking of the recent fire hazards and existing risks within Chattogram City Corporation area. Dr. Md Rashidul Hassan, Professor and Head of the Urban Planning Department, CUET gave a presentation on Fire incident situation in Chattogram City Corporation area.
At the event among others were present, Md. Ruhul Amin Sikdar, Secretary General, Bangladesh Inland Container Dipot Association, Rakib Hasan, ADC(G) & ADM, Tupu Sultan, Labor Inspector Safety, DIFE, Fakhrul Islam, Channel 24, Onjon Shekhor Dash, Director, Chattogram Chamber of Commerce, Mr. Mohammad Abu Issa Anshary, Town Planner of Chattoram Development Authority, Engineer Anupam Datta, Kornofuli Gas Distribution Limited, Engineer Aminur Rahman, Kornofuli Gas Distribution Limited, Maksud Alam, Chief Engineer, WASA, Md. Rezaul Karim, Chief Engineer, PDB, Engineer Saleh Ahmed, Manager, Padma Oil Company, Md. Abdul Halim, DD, FSCD, Syed Nazrul Islam, Vice President, BGMEA, Captain Moinul Ahsan, Executive Director, Smart Group of Industries (BM Container Depot), Soumitro Chakraborti, Dainik Purbokone, Md Ahmad Goni, Assistant Manager, Jamuna Oil Company Limited. In addition, representatives from different INGO, NGOs like UNDP, Mamata, Bright Bangladesh Forum.
To be mentioned here, Chattogram is the second largest port city of Bangladesh with small and big industries, important markets and multi-storied buildings. In addition, many public and private container depots have been developed under Chittagong's industrial establishments and port-centered import-export goods stock-management. Most of which are unplanned and irregularly constructed. Chemical depots in Chattogram are a major center for storage and distribution of petroleum products. The chemical depot has several storage tanks that can hold up to 100,000 metric tons of petroleum products including petrol, diesel and kerosene. At present, these unplanned buildings and container depots are the biggest cause of fear for the people of Chattogram. According to Prothom Alo report among 20 private inland chemical depots, 10 depots have diesel pumps in their premises, which are illegal and most dangerous. Moreover, 13 depots do not have fire hydrant, 9 depots are running without license renewal and almost all do not follow any fire safety and security measures.
At the end Ms. Nasim Banu shared closing speech on behalf of Mr. Arifur Rahman. She read, "Recently several fires and explosions have occurred in Bangladesh, including Chattogram. Extensive damage occurred in human life. In this case, the question that comes up is that what is our preparation to deal with such fire-explosion accidents? Can we identify the risks at all? It is also important to check whether there is a deficiency in the formulation of institutional plans for accident prevention, the implementation of laws and policies, and the lack of coordination of various sectors is also noticeable in this regard. It is important to solve these problems. We do not want a repeat of accidents like BM Dipo, Seema Oxygen Plant, KDS Composite Textile CWIFL, Padma Oil Tanker in Chattogram, Through this dialogue we hope for proper direction and effective implementation by the concerned departments with sincere efforts. A comprehensive contingency plan can be formulated especially in case of fire and explosion accidents."