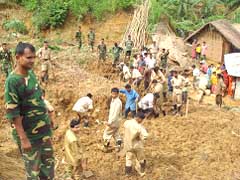 It was estimated that 126 people were killed and about 1000 injured by the mudslides during the heavy rainfalls on 11th June in Chittagong, Bangladesh. According to the Meteorological Department in Chittagong, approximately 416 mm of rain fell in a 24 hour period.
After the incident, YPSA's Disaster and Emergency Management unit initiated a rescue operation with the help of many volunteers to the affected areas. YPSA worked with firefighters, the Bangladeshi Army and volunteers of different NGOs. YPSA's volunteers worked in the Motijharna, Pahartali and Debarpar affected areas. The volunteers retrieved dead bodies from underneath the mud and bodies were sent to the morgue of the Chittagong Medical Collage (CMC). Volunteers also helped to injured people to the CMC. A total of 32 volunteers participated in this rescue operation. Between 13th to 15th June, YPSA distributed relief to affected areas and also provided medical services with the support of ActionAid Bangladesh.
For work and a chance to improve their livelihoods, many landless or poor people come to Chittagong from other districts of Bangladesh. Most end up living in the slums located in different parts of Chittagong city. Chittagong is a hilly area. Many of the slums or quarters for the poor are built on these hilly areas. When there's heavy rainfall, it often happens that the slums are destroyed and buried beneath the mud, claiming many lives.
Immediately after, a needs assessment was done by the volunteers in the affected areas. YPSA initiated a relief distribution program based on this assessment.