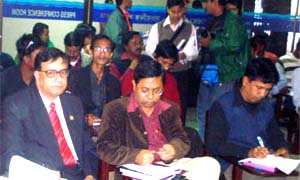 YPSA organized a press conference, on 30 January at Chittagong Press Club, on the submitted recommendations for expected Shipbreaking Policy.
Speakers said that it is true that shipbreaking is contributing the nations but on the other side it is a form of illegal shipment of hazardous waste from the developed countries to the developing countries. The ships are coming with a huge amount of waste with the iron and the workers working on the ground are facing that hazardous waste every day which is not acceptable.
YPSA program officer Muhammed Ali Shahin said `we welcome the initiatives to formulate a policy for the shipbre
aking industry. But it should be complied with the existing national like Labour law, environment conservation act and international commitment like Basel convention.
YPSA has been working for a long time, along with other environmental organization, media and different civil society organizations, to advocates for a public policy to ensure human rights in Shipbreaking Industry. As a result of this govt. has taken an initiative to formulate a policy for the industry. It's an achievement of the campaign. Now the ultimate goal is to ensure a good policy that will ensure environment protection and worker's rights and safety.
M. Nasirul Houqe, Chief Reporter of The Daily Shupprovat Bangladesh, Md. Omar Kaiser, Bureau Chief of The daily Bhorer Kagoze, Md. Mamun Abdullah, Chief reporter of The Daily Prothom Alo, Shamsul Hoqe Haidary, Bureau Chief of NTV, Md. Shahidul Islam Bacchu, reporter of The Daily Star, Md. Nazim Uddin Shamol, reporter of the Daily Independent and many other reporters from different newspaper ware participated in the press conference.