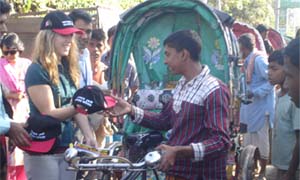 Reinforce this democratic process that will offer approximately 90 million eligible Bangladeshis a greater say in the decisions that affect their lives, a month long campaign to raise awareness about voting and civic responsibilities was organized by the High Commission of Canada in Dhaka. And with preparations for the December 2008 elections now revving up, the timing could not have been better.
High Commissioner of Canada Barbara Richardson was recently on hand in Dhaka to inaugurate the civic awareness campaign in a street launching ceremony.  To highlight the importance of registering on the voter's list and voting in the upcoming election, the High Commissioner handed out sports caps and reflective stickers with the slogan Your Vote is Your Fundamental Right/Obligation – 'Apnar Vote, Apnar Odhikar' in Bangla – to rickshaw pullers and the general public.
The month long campaign also made its way to Chittagong, Jessore and Khulna with the help of three NGO project partners: the Environment and Social Development Organisation (ESDO) in Dhaka; Young Power in social Action (YPSA) in Chittagong, and Uttaran in Jessore and Khulna.
By involving local volunteers and having partner NGOs talk to the general public about the importance of registering and voting in the upcoming election, the campaign was a true display of grass-roots outreach and advocacy.