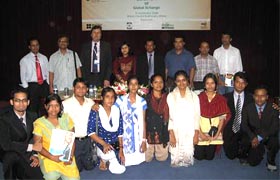 Global Xchange (GX) is a partnership programme managed and delivered by the British Council, Voluntary Service Overseas (VSO) and local partners around the world. The partners are committed to the idea that international volunteer exchanges and other activities can develop active global citizens who value volunteering, diversity, community development and social action and through these, take an active role in the fight against poverty and inequality.
The programme blends the unique contribution of all of the partner organizations involved to achieve this aim: the British Council through cultural relations and project management expertise, VSO through international development, programme theme expertise and international volunteering. GX local partners bring an understanding of community development and volunteering at the grass-roots level and experience of working with young people through information education approaches, techniques and methodologies. By working with local partners in this way we can ensure that the programme remains sustainable, works within the appropriate operating contexts and reflects the needs of local people and communities.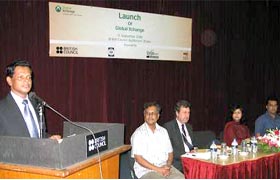 Volunteers aged between 18 and 27 and from all walks of life can join the programme, providing that they can demonstrate flexibility as well as a commitment to working with others and engaging in experiential and reflective learning. Teams of 18 young people undertake the programme, with equal numbers from the UK and a partner country. The volunteers live and work in the host communities for up to three months in the UK and up to three moths in the partner country.
Two programme supervisors, one from the UK and one from the partner country, develop, support and manage each exchange programme. Programme supervisors facilitate the volunteer and community learning for the duration of the exchange. Community stakeholders, volunteer hosts, and programme supervisors have many opportunities during the programme and as a part of the monitoring and evaluation process to reflect, share, document and learn from their experiences.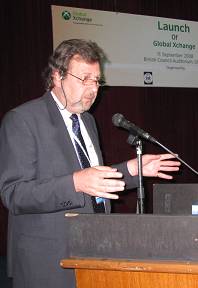 This Global Xchange Programme in Bangladesh is a partnership between the British Council and VSO. Our implementing partners are: (1) Young Power in Social Action (YPSA) and (2) Nagorik Uddyog (NU). Together, we enable young people from the UK and Bangladesh to live and work alongside each other for 3 months in the UK and for 3 months in Bangladesh . In addition to practical work that is of value to communities in both countries, the young people (aged 18-27) develop skills and attitudes that enable them (both in terms of skills and motivation) to play a much more active role in their communities when they return home.
Since 2001, we have successfully run over 50 previous exchanges between Nigeria , South Africa , Kenya , India , Indonesia , Kazakhstan, Pakistan, Sri Lanka, Mongolia and the Philippines . For more information please visit: www.vso.org.uk/globalxchange
After successful completion of our first exchange, this is the second time that British Council and VSO have supported this programme. Our Bangladeshi team consists of 9 volunteers among them three males and six females and one programme supervisor who will spend three months at Caithness in Scotland from 17 September to 7 December 2008. Both UK and Bangladeshi volunteers will come back to Bangladesh on 9 December 2008. From mid December, the team will spend three months in Chittagong , Bangladesh . They will stay at 10 host homes in pairs and work with 9 local organizations as well as different communities. The theme of GX Programme this year is "Building Youth as Active Citizen for Community Development."
The launch is being organized to introduce our newly selected volunteers who will be leaving Bangladesh on 14th September 2008 to participate in UK phase this year and also to inform people from all walks of life about the GX Programme.